Foo Fighters @ Stadium Shows - CANCELLED

2015
Monday 25th May to Tuesday 23rd June 2015
various stadiums,

Sunderland, Manchester, Wembley Stadium, and Edinburgh

,

UK
from £55
daily capacity: 65000
last updated: Fri 19th Jun 2015
Dave Grohl last night fell off a stage in Sweden just two songs in and broke his fibula bone in his leg, in the true spirit of rock n roll the Foo Fighters lead singer got medical attention while the band played covers before returning to the stage seated to finish the set.
The accident happened during a concert in Ullevi Stadium, in Gothenburg, Grohl went to jump on a ramp but missed and fell into the security area.
"I think I just broke my leg again," Grohl told the audience as he lay prone on the ground."I'm going to go to hospital. I'm going to fix my leg. And then I'm going to come back."
He added: "You have my promise right now that the Foo Fighters - we're going to come back and finish the show." Which he then did.
There's no news yet on whether the broken leg will mean the band's stadium shows and their Festival appearance at Glastonbury will be effected, but organisers are confident the shows will go on.
Foo Fighters are set to play stadium summer shows:
Sun 14 June Pinkpop, Netherlands
Fri 19 June Wembley Stadium, London
Sat 20 June Wembley Stadium, London
Tue 23 June Murrayfield Stadium, Edinburgh
Fri 26 June Pyramid Stage, Glastonbury
We will bring you more news about these shows here, when we have it.
A spokesman for Glastonbury Festival said, "It will take more than that to stop him!"
Below is his x-ray of the break posted up on the Foo Fighters twitter last night.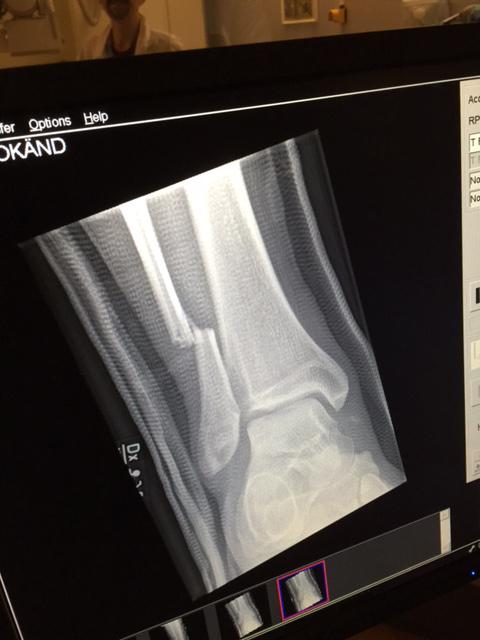 Foo Fighters @ Stadium Shows - CANCELLED

2015
Monday 25th May to Tuesday 23rd June 2015
various stadiums,

Sunderland, Manchester, Wembley Stadium, and Edinburgh

,

UK
from £55
daily capacity: 65000
last updated: Fri 19th Jun 2015
latest on this festival
Foo Fighters @ Stadium Shows - CANCELLED 2015
festival details
last updated: Fri 19th Jun 2015
Foo Fighters' Dave Grohl falls off stage and breaks leg
stadium shows and Glastonbury headline appearance still likely to happen
last updated: Sat 13th Jun 2015
playing to a congregation in the stadium of light
video of the day
last updated: Mon 25th May 2015
Kaiser Chiefs to support Foo Fighters in Sunderland
last updated: Wed 18th Feb 2015
tickets on sale at 10am for Foo Fighters stadium tour
Sunderland, Manchester, Wembley Stadium, and Edinburgh
last updated: Fri 21st Nov 2014