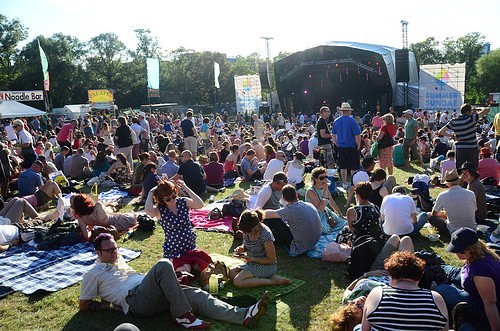 Summer Sundae Weekender

2012
Friday 17th to Sunday 19th August 2012
De Montfort Hall, Granville Road, Leicester, Leicestershire,

LE1 7RU

,

England
MAP
£105, youth (14-17) £70, child (5-13) £35, u5s free + camping
last updated: Thu 19th Jul 2012
Summer Sundae Weekender promoters, Concert Clinic, have decided that the event will not be making a return.
Concert Clinic, have issued a statement saying,
"Summer Sundae will not be returning in 2014.

We are sorry to announce that Leicester's Summer Sundae Weekender will not be returning in 2014.

Having taken a hiatus for 2013, we have worked hard on a number of different options to try and make the festival viable moving forward. Sadly we have found that running a city-centre event of this size with such an array of entertainment and professional production standards is just not possible in the current economic climate.

Summer Sundae has always been subsidised, even in very successful years (namely 2006 and 2010). In recent years Concert Clinic has underwritten cumulative financial losses, and unfortunately a point has been reached where the festival is no longer financially viable for either party.

We are very proud of what we have achieved over the years, from a one day event in 2001 through to the 5 stage, 6000 capacity event with camping and all forms of entertainment, Summer Sundae has provided opportunities for 100s of artists from the region as well as internationally known names, and has left us with some brilliant memories.

Thank you to all those that have supported the festival and attended the event over its 12 year history, we couldn't have come this far without you."
Summer Sundae Weekender, had been a regular fixture on Leicester's, De Montfort Hall's summer calendar each August for over ten years. Starting in 2001 as a one day event, it grew to two days in 2002, and three days in 2003. It had been a three day festival ever since with full camping facilities and offering a civilised and relaxed atmosphere, an unwavering ethical standpoint, high production values, a quality range of food and drink, stalls, spoken word, and comedy.
Latest On This Festival
Summer Sundae Weekender
festival home page
last updated: Wed 20th Apr 2022
Summer Sundae will not be returning in 2014
last year was the final year
last updated: Thu 5th Sep 2013
Summer Sundae Weekender takes a break in 2013
outdoor Hall centenary celebrations planned instead
last updated: Wed 19th Dec 2012
Summer Sundae Weekender maintains a friendly, chilled out atmosphere
Summer Sundae Weekender 2012 review
last updated: Wed 22nd Aug 2012
there's a fun, summer vibe on Saturday at Summer Sundae Weekender
Summer Sundae Weekender 2012 review
last updated: Wed 22nd Aug 2012