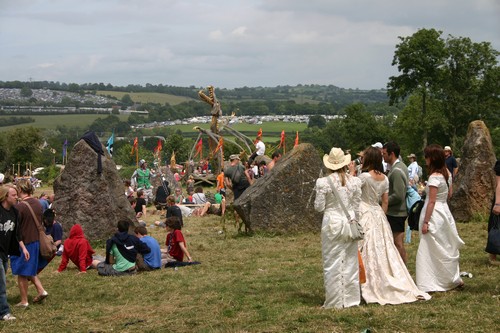 Glastonbury Festival

2009
Wednesday 24th to Sunday 28th June 2009
Worthy Farm, Pilton, Shepton Mallet, Somerset,

BA4 4AZ

,

England
MAP
£175 - SOLD OUT
daily capacity: 150000
last updated: Tue 2nd Jun 2009
Camp for Climate Action
have confirmed that they will be setting up a new area in the
Dragon Field
at this month's
Glastonbury Festival
for climate-conscious folks to come and take part in the first ever Glastonbury Camp for Climate Action.
Located between the Stone Circle and Shangri-La, the Dragon Field, is going to be taken over by the Camp for Climate Action. The Climate Camp is run by volunteers and concentrates on the underlying cause of climate change. They have previously had camps at Heathrow, Kingsnorth, and Bishopsgate. They will be running the next proper camp somewhere within the boundaries of the M25 from 27th August to 2nd September.
Every Camp for Climate Action event has four key themes: education, direct action, sustainable living, and building a movement to effectively tackle climate change both resisting climate crimes and developing sustainable solutions.
For Festival goers this will be an opportunity to get a small taste of what the Camp is all about, and attend some of the many workshops they will be holding including how to set up the wind turbine, as well as lessons in how to set up effective blockades using tripods. The site will also offer games and activities, and photo exhibits from previous camps.
This year, the Camp for Climate Action is trying to draw the links between the financial crisis, the climate crisis and the UN talks in Copenhagen at the end of the year. At the Festival there will also be talks about carbon trading to Kyoto, climate justice, to climate science.
The Camp will also have a small acoustic music space (the Random Bandstand) where they will be inviting special performers from across the festival to come and give intimate guerrilla gigs.
This will be a camping field so there won't be loud amplified music at all, and the Random Bandstand will be ending at a civilised hour every evening.
The line-up of music acts for this year has been confirmed and includes Neil Young as Friday headliner, Bruce Springsteen & The E Street Band as Saturday night headliner, and Blur as Sunday headliner, alongside thousands of other acts including The Specials, Lily Allen, Fleet Foxes, Kasabian, Crosby Stills and Nash, Dizzee Rascal, Spinal Tap, Nick Cave & The Bad Seeds, Madness, Bloc Party, The Ting Tings, Lady GaGa, White Lies, Franz Ferdinand, Pendulum, Maximo Park, Paolo Nutini, Peter Doherty, The Prodigy, Glasvegas, Bon Iver, Bat For Lashes, Q-Tip, and many more.
To see the most detailed line-up details for Glastonbury Festival anywhere on the web,
click here >>
.
This year's Glastonbury Festival runs throughout the five full days from
Wednesday 24th until Sunday 28th June 2009
at
Worthy Farm, Somerset
.
A full weekend ticket is priced at £175 (plus a booking fee of £5), and you must have a registration number to be able to purchase them.
To buy Glastonbury Festival tickets, there are a few still available, click here
.
Each purchase must be matched with valid registration numbers.
Online registration is also available and can be carried out by
clicking here
.
The ticket price includes includes a FREE programme, a useful cloth bag, and small around the neck guide. Car parking tickets can be bought at the same time and are priced at £10 per vehicle, and campervan tickets are priced at £65 per van.
For detailed information on all aspects of the festival, click here.
Latest On This Festival
Glastonbury Festival 2024
line-ups & rumours
last updated: Thu 7th Dec 2023
Glastonbury Festival 2024
festival details
last updated: Thu 2nd Nov 2023
First Ticket Sale Dates For Glastonbury Festival 2024 Announced
The November dates have officially been confirmed
last updated: Sat 30th Sep 2023
Emily Eavis Seems To Reveal Glastonbury 2024 Ticket Sale Date
Brace yourselves for another November ticket release date
last updated: Fri 22nd Sep 2023
Glastonbury Festival
festival home page
last updated: Tue 5th Sep 2023