Off The Tracks Summer Festival

2017
Friday 1st to Sunday 3rd September 2017
Donington Park Farmhouse, nr Castle Donington,

Isley Walton

,

Derbyshire

,

DE74 2RN

,

England
MAP
£80 for w/e inc camping, youth (12-16) £45
daily capacity: 2000
last updated: Wed 3rd May 2017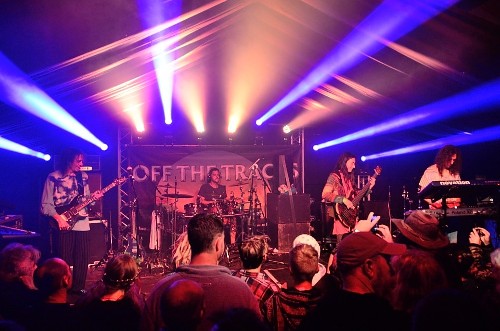 This popular family-friendly festival takes place in and around the courtyard of a farmhouse and offers folk, roots, dance and fusion on two stages, accompanied by real ales and ciders, acoustic sessions, stalls, and atmospheric surroundings.
Off The Tracks have decided that they won't be running a spring event just the larger summer event which takes place from Friday 1st until Sunday 3rd September 2017.
Line-up
The first confirmed acts are headliners Peatbog Faeries (Friday) and Dub Pistols (Saturday), plus Arthur Brown, Misty in Roots, and more, with many more acts still to be confirmed for the festival's many stages.
For all of the details so far please see the line-up page.
Tickets
Tickets are priced at £80 for an adult ticket for the weekend with camping, and £45 for a youth (aged 12 to 16 years) ticket, children aged under 12 go free and do not require a ticket. Car parking is £5.
Camping facilities
Camping and shower facilities available, as well as hook-ups for campervans.
Note: no dogs allowed (except registered Dogs for the Disabled).
For kids
There's also a children's Play Area for the kids, and children also have the opportunity to take part in circus workshops, and the parade.
Healing and workshops
In The Orchard at Off The Tracks offers workshops and therapies such as yoga, tuning in, Tai Chi & Chi Kung, Shiatsu, Metamorphic Technique, meditation, and chanting & voice work.
The organisers are environmentally-conscious in all that they do and committed to enhancing our green credentials and sustainability. As a family-owned business they believe that businesses bring more to communities when they have family values at heart and embrace responsibility for their employees. As both a farm and a venue, they take a unique holistic approach to the growth, preparation and serving of their food and believe in sustaining high standards of quality throughout. Where they are unable to grow what they need themselves they try hard to source it locally and from other family-owned businesses. They are committed to responsible stewardship of the countryside and wildlife that surrounds us and strive to act always with nature in mind.
There will be more information here when available.
Off The Tracks Summer Festival

2017
Friday 1st to Sunday 3rd September 2017
Donington Park Farmhouse, nr Castle Donington,

Isley Walton

,

Derbyshire

,

DE74 2RN

,

England
MAP
£80 for w/e inc camping, youth (12-16) £45
daily capacity: 2000
last updated: Wed 3rd May 2017
Latest On This Festival
Off The Tracks Summer Festival 2024
festival details
last updated: Tue 17th Oct 2023
Off The Tracks Festival 2023 - The Review
Late-summer sunshine brightens this lovely end-of-season festival
last updated: Sun 15th Oct 2023
Off The Tracks Summer Festival 2023
photo galleries
last updated: Sun 15th Oct 2023
Off The Tracks Summer Festival 2023
festival details
last updated: Tue 25th Apr 2023
Off the Tracks Festival
festival home page
last updated: Mon 23rd Jan 2023