Pitchfork Music Festival

2023
Tuesday 7th to Monday 13th November 2023
various venues,

London

,

Greater London

,

England
Prices Vary
last updated: Thu 27th Jul 2023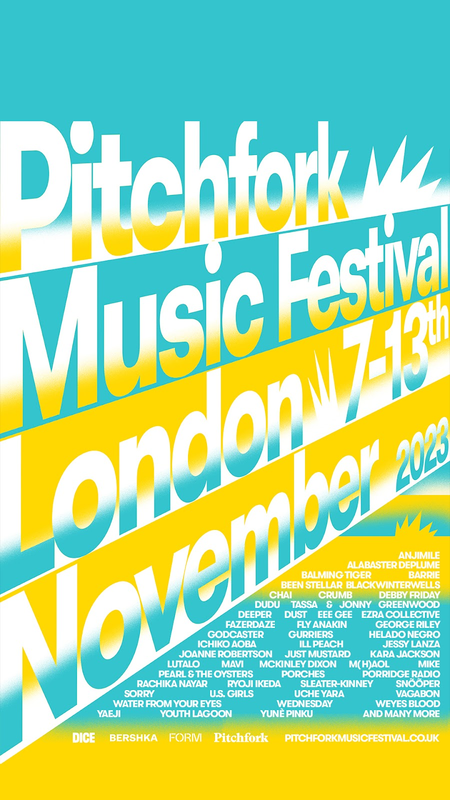 Pitchfork London announces second wave of ground-breaking acts for third festival edition - taking place across multiple London venues from 7-13 November 2023
Newly added performances from:
Ezra Collective / Balming Tiger / CHAI / Ichiko Aoba / Kara Jackson / Vagabon / Rachika Nayar / Anjimile / Ichiko Aoba / George Riley / SNÕÕPER / Godcaster
& more to still be announced
Pitchfork Music Festival London is delighted to announce the second wave of artists for their third edition, taking place across multiple London venues from 7-13 November 2023.
The festival is delighted to welcome MOBO award-winning jazz quintet Ezra Collective for a special opening event at London's prestigious Royal Albert Hall on November 7th. The show will feature special guests in support, and is set to be a true celebration of the capital's nu-jazz explosion in perhaps the city's most famous venue. Korean rap phenomenon Balming Tiger will take over Village Underground on November 8th in collaboration with Eastern Margins - a night celebrating the very best in new South East Asian talent. A supporting cast of artists of this heritage will be announced soon. Village Underground will also host Sub Pop acts CHAI and ill peach on November 10th and former National Youth Poet Laureate Kara Jackson (plus special guests) leading a new show at Kings Place on November 11th, following a standout performance on Later… With Jools later this week, with further guests in support.
Additionally, an exciting Pitchfork-celebrated talent Rachika Nayar joins Ryoji Ikeda's bill on Wednesday 8th November at The Barbican. On the Saturday night, new 4AD signing Anjimile and Godcaster are added to the Dalston multi-venue take-over, and club-pop breakout George Riley completes the six act bill at the Roundhouse with Yaeji.
Elsewhere, 6Music favourites SNÕÕPER join Sleater-Kinney, US Girls and M(h)aol at The Roundhouse on the Friday 10th, and finally an extremely exciting supporting cast of Japanese folk sensation Ichiko Aoba and US indie-folk act Vagabon join Weyes Blood on the closing night.
This year's Pitchfork London event promises to be the best yet, with an extended edition running across seven nights and featuring a stellar line-up, including the previously announced:
WEYES BLOOD - YAEJI - SLEATER-KINNEY - RYOJI IKEDA - PORRIDGE RADIO - CRUMB - JONNY GREENWOOD & DUDU TASSA - HELADO NEGRO - MAVI - MIKE - U.S. GIRLS - SORRY (special strings performance) - ALABASTER DEPLUME - WEDNESDAY - YOUTH LAGOON - WATER FROM YOUR EYES - JUST MUSTARD - BARRIE - FLY ANAKIN - DEEPER - PORCHES - JESSY LANZA - GURRIERS - PEARL AND THE OYSTERS - BEEN STELLAR - LUTALO - EEE GEE - FAZERDAZE - MCKINLEY DIXON - YUNÈ PINKU - DEBBY FRIDAY - BLACKINKWELLS - DUST - M(H)AOL.
Latest On This Festival
Pitchfork Festival London 2023
Another fab, diverse week!
last updated: Tue 14th Nov 2023
Pitchfork Music Festival 2023
photo galleries
last updated: Tue 14th Nov 2023
Pitchfork Music Festival 2023
festival details
last updated: Thu 27th Jul 2023
Pitchfork Fest London adds even more new names to stacked 2023 lineup
Coming November 2023
last updated: Thu 27th Jul 2023
Pitchfork Fest London add new names to stacked 2023 lineup
Coming November 2023
last updated: Sat 3rd Jun 2023