Pitchfork Music Festival

2023
Tuesday 7th to Monday 13th November 2023
various venues,

London

,

Greater London

,

England
Prices Vary
last updated: Thu 27th Jul 2023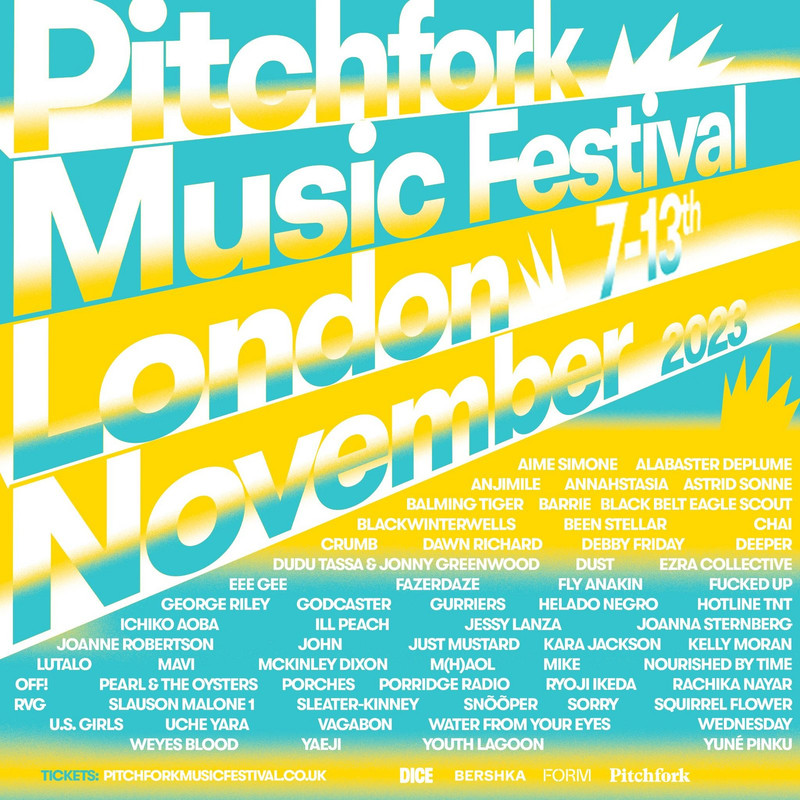 Pitchfork Music Festival London have announced three additional special events for their third edition, featuring the likes of Slauson Malone 1, Nourished By Time, Joanna Sternberg and Fucked Up.
Slauson Malone 1, with special guests Nourished By Time and Astrid Sonne will play Colour Factory on November 8th. Following the release of their acclaimed album I've Got Me, Joanna Sternberg will play a special matinee performance at Kings Place on November 11th. The evening will also see Fucked Up headlining iconic home of London punk rock The Underworld with support from hardcore legends Off! and UK breaking act John. All shows are on-sale Friday 28th July at 10AM, with tickets available from pitchforkmusicfestival.co.uk.
New other additions include Dawn Richard who will be joining CHAI and ill peach at Village Underground on 10th November. Black Belt Eagle Scout and RVG will appear on the Sleater-Kinney bill The Saturday 11th November one wristband / multi-venue Dalston takeover will now feature sets from Squirrel Flower, Kelly Moran, Hotline TNT and Aime Simone, whereas Annahstasia will be opening the Kara Jackson show at Kings Place that same evening.
This year's Pitchfork London event promises to be the best yet, with an extended edition running across seven nights and featuring a stellar line-up, as follows:
AIME SIMONE / ALABASTER DEPLUME / ANJIMILE / ANNAHSTASIA / ASTRID SONNE / BALMING TIGER / BARRIE / BLACK BELT EAGLE SCOUT / BLACKWINTERWELLS / BEEN STELLAR / CHAI / CRUMB / DAWN RICHARD / DEBBY FRIDAY / DEEPER / DUST / DUDU TASSA & JONNY GREENWOOD / EEE GEE / EZRA COLLECTIVE / FAZERDAZE / FLY ANAKIN / FUCKED UP / GEORGE RILEY / GODCASTER / GURRIERS / HELADO NEGRO / HOTLINE TNT / ICHIKO AOBA / ILL PEACH / JESSY LANZA / JOANNA STERNBERG / JOANNE ROBERTSON / JOHN / JUST MUSTARD / KARA JACKSON / KELLY MORAN / LUTALO / MAVI / MCKINLEY DIXON / M(H)AOL / MIKE / NOURISHED BY TIME / OFF! / PEARL & THE OYSTERS / PORCHES / PORRIDGE RADIO / RYOJI IKEDA / RACHIKA NAYAR / RVG / SLAUSON MALONE 1 / SLEATER-KINNEY / SNÕÕPER / SORRY / SQUIRREL FLOWER / U.S. GIRLS / UCHE YARA / VAGABON / WATER FROM YOUR EYES / WEDNESDAY / WEYES BLOOD / YAEJI / YOUTH LAGOON / YUNÉ PINKU
Full details of the festival events are on the festival website here: pitchforkmusicfestival.co.uk
Latest On This Festival
Pitchfork Festival London 2023
Another fab, diverse week!
last updated: Tue 14th Nov 2023
Pitchfork Music Festival 2023
photo galleries
last updated: Tue 14th Nov 2023
Pitchfork Music Festival 2023
festival details
last updated: Thu 27th Jul 2023
Pitchfork Fest London adds even more new names to stacked 2023 lineup
Coming November 2023
last updated: Thu 27th Jul 2023
Pitchfork Fest London add new names to stacked 2023 lineup
Coming November 2023
last updated: Sat 3rd Jun 2023