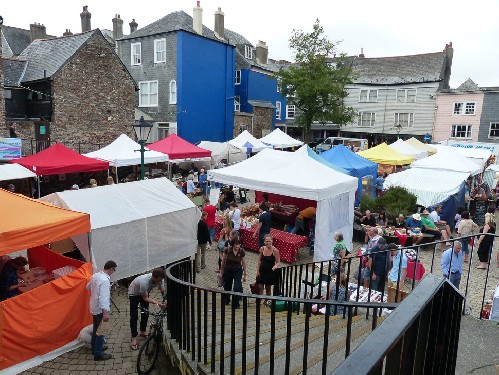 Sea Change Festival

2023
Friday 26th to Tuesday 30th May 2023
Inside Totnes' Grade I-listed St Mary's Church, 9 High St,

Totnes

,

Devon

,

TQ9 5NN

,

England
MAP
£64.79 for three days
daily capacity: 2000
last updated: Thu 6th Apr 2023
seachangepresents.co.uk @tweetseachange @seachangepresents @seachangepresents
SEA CHANGE WEEKENDER APPROACHING MASSIVE SELL OUT!
85% of tickets sold for Spring Bank Holiday Weekend special
All ticket prices cut by 33% in response to glorious state of the economy
Tickets on sale now atseachangepresents.co.uk
Verdant Brewery joins Sea Change family
Stone Club and Rough Trade Books take over Totnes's newest community venue
Jeremy Deller brings Art Is Magic to Sea Change
24/3/23 -- Totnes's Sea Change Weekender is going to sell out faster and earlier than ever before. 85% of tickets are now sold for one of the festival season's most distinctive and best loved happenings, which will bring intimate, off-kilter performances and rare, unique and special showcases to Totnes across the Spring Bank Holiday weekend, 26-28 May.
For the 2023 edition, Sea Change has made the bold move of reducing the weekend ticket price by 33%, in an attempt to ensure as many people can be involved as possible. Tickets are on sale from seachangepresents.co.uk and in person at Drift Records in Totnes (a deposit scheme is available to help with purchasing tickets). Weekend wristbands are just £59.99 (plus booking fee).
Conceived and run by Totnes' Drift Record Shop, Sea Change will present music, conversation and films on Friday 26th and Saturday 27th May 2023, and an all-new lazy Sunday 28th May, which will focus on the food and drink producers that make Totnes and its surrounding areas desirable destinations for food lovers.
Today, Sea Change announces three new partnerships:
The much-revered Verdant Brewery of Penryn in neighbouring Cornwall will create a special edition beer to celebrate Sea Change Weekender. Our limited impression follows recent Verdant collaborations with White Rabbit Books, Finders Keepers, Mr Bongo, Luke Una, Jon Hopkins and Richard Norris. Adam Robertson of Verdant Brewery said, "After visiting Sea Change Festival in 2022 we came away with a new opinion of what a festival could be. Hosted in and around the wonderful Totnes, not only will you experience great music but the cultural aspect of the festival is a fantastic addition. We're proud to be able to be a part of this truly unique event."
In a delicious cultural exchange, as the beers flow from Cornwall to Devon, some of the Sea Change line-up will nip over to Verdant's Penryn taproom for special guest DJ sets across the Sea Change weekend; just announced are Dave MacLean of Django Django, the Finders Keepers label crew and Chris Menist from the excellent Paradise Bangkok label. For more information on Verdant's award-winning beers and Penryn events please visit https://verdantbrewing.co/blogs/taproom-events
On Friday 26 May, Totnes's newest community venue, The Albatross, will become a hotbed of prehistory, ley lines, magnificent edifices, rocky new perspectives and stomping as it turns into an outpost of Stone Club. Stone Club runs a regular sell out night at The Social, each one with talks, readings, performance, DJs, films and more. Special Sea Change Stone Club guests will include The Pillars of Wonder (a collaboration between Lewes based musician Richard Norris, Matthew Shaw from the Stone Club and the artist Jamie Reid), The Folk Archive (an archive of folk traditions, costumes, art and beyond run by Lally McBeth) and mysterious sounds from the even more mysterious Local Psycho. Expect the unexpected!
It wouldn't be Sea Change without the festival's dearest partners in crime, Rough Trade Books, which will present a full schedule on Saturday at The Albatross, including award-winning illustrator Rose Blake talking about her pamphlet Egg and Spoon, which details the relationship she has with her father Peter Blake, artist and musician Richard Phoenix in conversation with poet Will Burns about his brilliant new book Do Your Own Thing, a shape-shifting examination of creativity and arts-access for young people with learning disabilities, and powerful poetry from Salena Godden reading from her new and expanded book, Pessimism is for Lightweights.
Other weekend appearances at The Albatross include artist Jeremy Deller in conversation with Heavenly's Robin Turner about his Art Is Magic book and writer and broadcaster Emma Warren discussing her forthcoming Dance Your Way Home: A Journey Through the Dancefloor.
Acclaimed artists and emergent talents, installations, conversations and collaborations will fill venues across Totnes, including the hazily atmospheric St Mary's Church, hugely vital and always-rammed gold-ceilinged Barrel House Ballroom, the beautifully restored picture palace, Totnes Cinema, and the award-winning, eco-pioneering Bull Inn. And at the very top of the town, but at the heart of the festival, is Drift, hosting signings, performances and serving great coffee, as well as simply being itself - one of the country's great, most discerning and passionately run record shops.
Among the Sea Change Weekender line-up:
Bill Ryder-Jones returns to Devon four years (and one pandemic) after his full band Sea Change show in 2019 with an intimate solo piano and guitar show at St Mary's Church. Bill will perform favourites from his back catalogue alongside first airings of new material.
Saturday night will feature a live set from Manchester post-punk composer Lonelady, an artist who has been on the Sea Change wishlist for the last half-decade. Her most recent 'Former Things' album was a masterclass in driving maximalism and we're honestly so thrilled to welcome her to town.
Friday night is a Speedy Wunderground takeover as part of the impeccable label's tenth birthday celebrations, with two incredibly exciting young talents in the goth-inspired post-punks Heartworms and explosive saxophone and drums duo O.
Following the announcement of Django Django's huge new fifth LP, Off Planet, we're thrilled to welcome the band's drummer/producer Dave Maclean to Totnes for a Django Django DJ takeover at Totnes Cinema. Expect the full gamut from synth-pop, krautrock and psychedelia to techno and vibrant indie rock.
Also DJ'ing across the weekend will be Deptford Northern Soul Club, the gimmick-free soul big hitters who have just been dubbed the No.1 of 'the 25 most banging club nights in the UK' by Time Out; Andy Votel of Finders Keepers Records, who will bring his esteemed record boxes for a deep dive into the musical unknown; and we're really thrilled to present the esteemed Heavenly Jukebox, which never fails to get the party going and to take us higher (and higher).
Other musical attractions include the much talked about and Steve Albini-approved Irish feminist band M(h)aol, who are about to blow minds at SXSW with music that is vulnerable, triumphant and cathartic in equal measure; MEMORIALS, which is the new band of Verity Susman (Electrelane) and Matthew Simms (Wire), veering from melodic songwriting to psychedelic noise, free jazz freak outs, tape loops and drones, and then back again; Edinburgh's Eyes Of Others, who recently released the beautifully woozing 'Bewitched by the Flames' EP on Heavenly Recordings; a Sea Change debut at long last for Bristolian singer-songwriter Clara Mann at St Mary's Church;Brisbane/Meanjin-born and London-based songwriter MF Tomlinson, whose We Are Still Wild Horses is the year's finest chamber pop, no doubt; punk trio deep tan - one of the most stand-out young bands playing live right now - will rip The Barrel House Ballroom to shreds on Friday, all before it's carefully put back together again for London based six-piece Tapir!, who bring the most gorgeous post-folk analogue shapes.
FESTIVAL INFORMATION
Tickets: www.seachangepresents.co.uk
Latest On This Festival
Sea Change Festival 2023
festival details
last updated: Thu 6th Apr 2023
Sea Change 2023 news - nearing sell out and some new additions
last updated: Fri 24th Mar 2023
Sea Change Festival 2023
line-ups & rumours
last updated: Fri 24th Feb 2023
Sea Change 2023 news
line-up news: Bill Ryder-Jones / Lonelady / Django Django [DJ]
last updated: Thu 23rd Feb 2023
Totnes Sea Change Festival
festival home page
last updated: Thu 23rd Feb 2023