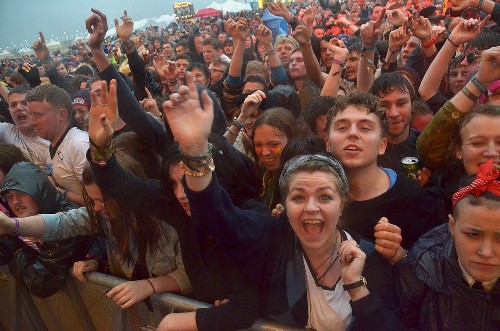 We are urging our readers to sign a petition, organised by supporters of the All-Party Parliamentary Group on Ticket Abuse, hoping to force the Consumer Rights Act to protect music, arts and sport fans from secondary ticketing, and demanding that Parliament enact last year's ticket resale amendment, which suggested tougher sanctions for resale websites, and also require ticket resellers to reveal their identities.
The principle name on the petition, Adam Tudhope, is Mumford & Sons manager, and it has been signed by artist managers and agents who are all coming together to deplore the increasing industrial-scale abuse and insider exploitation of tickets for music, arts and sports events by ticket touts, and their online associates and facilitators.
A statement from many of the main supporters, along with the Association of Independent Festivals and several ticket agencies (Scarlet Mist, Twickets and The Ticket Factory among them) says, "Tens of thousands of fans have been ripped off by people who exploit fair ticket prices via so-called ticket marketplaces. In many cases the intended audience is being priced out of the market altogether. The consequence in many cases is that fans will attend fewer shows, meaning that the profits made by such immoral practice is also money lost from the industry. Funds that would otherwise be reinvested in future events. In other cases, artificial price inflation shuts out new generations of fans. A significant part of the secondary/ resale ticketing market is rigged and manipulated for the benefit of a few, inex tricably linked to online crime, the evasion of VAT and intellectual property payments and, at its worst, fake ticket scams which have defrauded thousands of people in recent years.
"We agree that there is a need for genuine, transparent ticket resale/exchange and we support businesses providing face value services. The undersigned urge [chairman of the Government review into secondary ticketing] Professor Michael Waterson, the review panel, the Department for Business, Innovation and Skills, and the Department for Culture, Media and Sport, to put the public's interests as well as those of the event organisers, before those of the touts and exploiters."
If 100,000 people sign this petition it will go before Parliament.
The put the fans first signatories include Julian Wright & David Furnish, Rocket Music Entertainment (Elton John, The Strypes); Michael Eaton, Bushbranch (Eric Clapton); Jonathan Dickins, September Management (Adele, London Grammar, Jack Peñate, Jamie T); Chris Martin, Guy Berryman, Jonny Buckland & Will Champion (Coldplay); Richard Griffiths, Harry Magee & Will Bloomfield, Modest! Management (One Direction, 5 Seconds of Summer, Little Mix, Olly Murs, Cheryl); Tim Clark & David Enthoven, ie:music (Robbie Williams, Passenger, Will Young, Lemar); Stuart Camp, Rocket Music Entertainment (Ed Sheeran); Ian McAndrew, Wildlife Entertainment (Arctic Monkeys, Royal Blood, The Last Shadow Puppets, Travis); Rod Smallwood, Phantom Music (Iron Maiden); Adam Tudhope, Everybodys Management (Mumford & Sons, Laura Marling, Keane); Tony Smith, TSPM (Nick Mason, Genesis, Phil Collins); Chris Hufford & Bryce Edge, Courtyard Management (Radiohead, Gaz Coombes), Marcus Russell & Alec McKinley, Ignition Management (Noel Gallagher, Oasis, Catfish & The Bottlemen); Paul Loasby, One Fifteen (David Gilmour, Jools Holland); Ian Grenfell, Quietus Management (Chrissie Hynde, Suede, Simply Red, Simple Minds); Paul McDonald, Closer Artists (George Ezra, James Bay, James Morrison, John Newman); Jamie Oborne, All On Red (The 1975); Sam Eldridge, Urok (Jess Glynne, Plan B, Tom Odell, Mystery Jets); Niamh Byrne & Regine Moylett, Eleven Management (Blur, Gorillaz, The Clash, Kano, Jamie Hewlett, Spoek); Paul Crockford, Paul Crockford Management (Mark Knopfler); Stewart Young, Part Rock Management (Foreigner, Zucchero, Emerson, Lake and Palmer); Craig Jennings, Matt Ash and Don Jenkins, Raw Power Management (Bullet for My Valentine, Bring Me The Horizon, Of Mice and Men, Young Guns). Mike Greek & Emma Banks, Creative Artists Agency; Neil Warnock & Geoff Meall, United Talent Agency; Jeff Craft, Ian Huffam, Martin Horne & Scott Thomas, X-ray Touring; Lucy Dickins, ITB; Charlie Myatt, 13 Artists; John Jackson, K2 Agency; Paul Boswell & James Alderman, Free Trade Agency; and agents at Primary Talent International, Coda Music Agency, Miracle Artists and Value Added Talent.
To add your name to the campaign - sign the petition here.
latest updates
Wood Festival 2024
festival details
last updated: Fri 8th Dec 2023
Deer Shed Festival Lineup
First artists for 14th edition of Deer Shed Festival confirmed
last updated: Fri 8th Dec 2023
Keswick Mountain Festival 2024
festival details
last updated: Fri 8th Dec 2023
Beat the Streets 2024
festival details
last updated: Fri 8th Dec 2023
Radar Festival 2024
festival details
last updated: Fri 8th Dec 2023