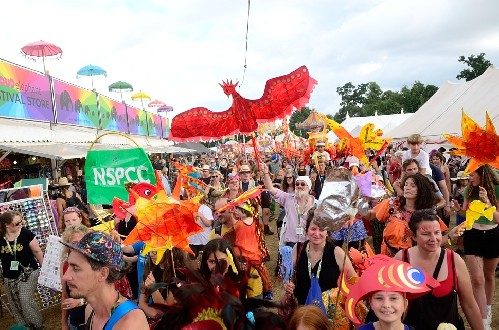 WOMAD

2022
Thursday 28th to Sunday 31st July 2022
Charlton Park ,

Malmesbury

,

Wiltshire

,

SN16 9DG

,

England
MAP
expect £225 for 4 days, £185 for 3 days
daily capacity: 40000
last updated: Wed 29th Jun 2022
It couldn't get test event status last year, much to our chagrin. But, after a three year break, The World of Music, Arts and Dance festival finally returned, and celebrated its 40th anniversary. In great style, of course, we would expect or accept nothing less! And, according to the programme introduction, the organisers sold a record number of tickets for 2022 (including the rolled over ones from 2019). Good news.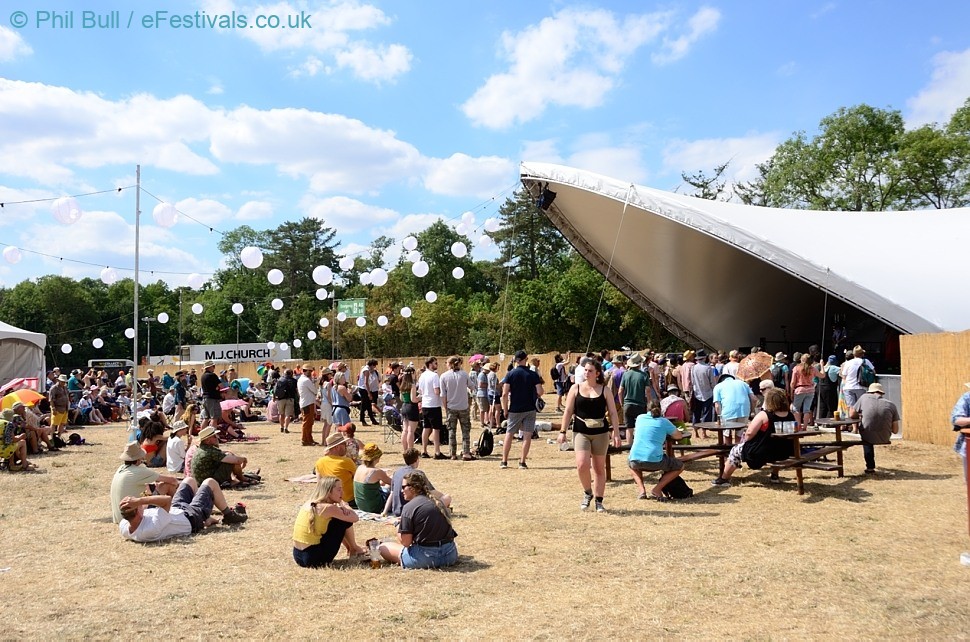 It certainly felt very busy around the lovely Charlton Park site in Wiltshire on Thursday (28th July) night, whether this was because many punters couldn't wait to get back, or because they were tempted by the great headliners (The Selecter, UK, and Fatoumata Diawara, Mali), it made for a lively atmosphere. Sometimes Thursday evening at WOMAD feels like a festival still waiting to start properly – definitely not this time.
In time honoured tradition the Malmesbury Schools Project opened the proceedings, this year working with Amaraterra (Italy), and what the young performers do not have in terms of professionalism (yet), they make up with their enthusiasm. Always great to see the local community being so involved. I hope it compensates somewhat for all the disruption and extra traffic our long weekend of fun must cause them. All performers went for it and seemed really pleased to be able to play live again. The Selecter are always a bit of an audience favourite, however, I was truly smitten by Fatoumata's set and all the influences she mixes, her backing band sounded almost psychedelic at times.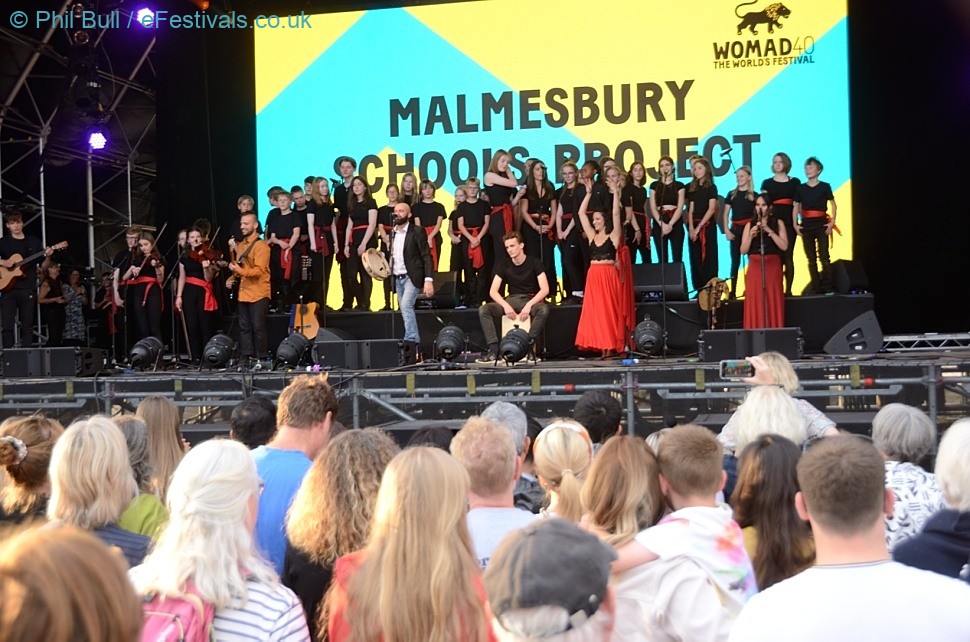 The site lay out had shifted a little: the main Open Air Stage was at a better distance and angle from the Siam tent (which looks different, too), then there's the small Charlie Gillet stage roughly in its usual place, but D&B soundscape appeared to have merged with what used to be another big (red) tent, whilst the Ecotricity Stage in the shady arboretum hadn't changed much. Molly's Bar still sat where the campsite joins the arena/arboretum area, but the actual bar part was now separated from the stage, placed right next to it instead. Works well, we could order a drink without having to make our way through a throng of ravers.
Naturally, for me at least, Friday started with the clash of clashes: Hatis Noit (Japan) looped fabulous soundscapes with just her voice in the d&b Soundscape tent, the perfect venue for her – but she was up against Joji Hirota and the London Taiko Drummers (Japan/UK) on the Open Air Stage. And I wanted to see them too. Spread over the weekend, I had this problem at least half a dozen times. Fortunately WOMAD isn't Glastonbury when it comes to distances, so I managed to see and enjoy a bit of both. Afterwards, Khiyo (Bangladesh/UK) , who are named after a letter of the Bengali alphabet, played the CG stage, blending traditional Bengali songs with a modern London sound. Marvellous singer. Rizwan-Muazzam Qawwals (Pakistan), next on the main stage are no strangers to WOMAD. Nusrat Fateh Ali Khan was the main man of this style of mesmerising devotional Sufi music, now his nephews have fully grown into the void left by his early death.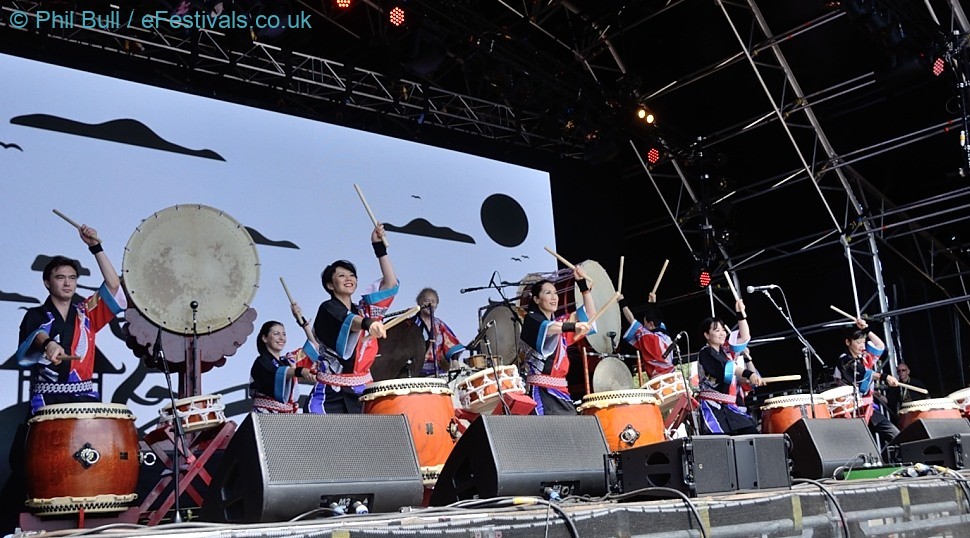 And then for something completely different: Electric Jalaba (Morocco/UK), the kind of moment where I was on my way to something but abandoned my plans to stop and listen to something I really did not know at all. Gnawa music. Which here involved a traditional instrument (guembri) going electric and, well, the rest is hard to describe, but absolutely infectious to watch and dance to.
Fantastic Negrito (USA) is a man with an interesting real life name (Xavier Amin Dphrepaulezz) and a complicated past, which he drew on for his modern blues songs and stories. He is also a black man on a mission, singing to a field of mostly white people. "I'm here to make you think", he says. "I left a wife and kids and 15 chicken and dog behind back home to come and play here." This better be worth his while. It's a great set, the music mixed with stories from his family history. Xavier, yes, your audience is here is mainly white, but I reckon at least 75% of them are regular Guardian readers, it just is that type of festival. Chances are, they will agree with your take in historic and recent injustice..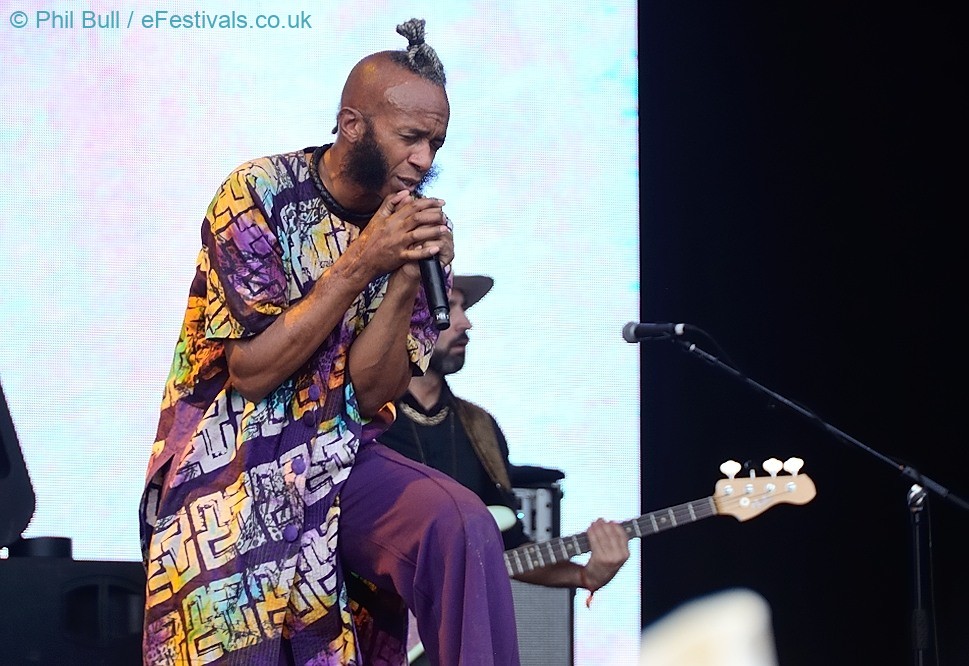 Kae Tempest(UK) was next on the Siam tent, and appropriately, her performance was accompanied by a BSL interpreter, the lyrics being such a central part of it. I listened to them from a distance, resting a bit to be fit enough for Angelique Kidjo (Benin), who promised to do her very own African take on a that famous Talking Heads album, "Remain In Light". Influences go full circle here. But she also performed other songs, and during Mama Africa she drew Peter Gabriel out of wings to sing and dance with her. Nice surprise, although I had expected him to be around for this anniversary event. After so much excitement, a mellower performance at the Siam Tent by Abel Selaocoe (South Africa) is just the thing to finish the evening. He takes an instrument that is often firmly linked to classical music, the cello, and makes it his own.
I started Saturday at d&b tent listening to a beautiful set of Chinese songs, reworked slightly to make them more accessible to a Western audience, performed by Cheng Yu & Silk Breeze (China/UK). Then, it was decision time again: The Almostmen (Ghana) sounded buoyant as I walked up to the CG stage, but I was also intrigued by the write up about Elaha Soroor & Kefaya (Afganistan/UK/Italy). A rain shower helped me make my decision – Elaha at the sheltering Siam Tent. So this is a woman from Afghanistan singing Afghan folk songs rocked up by a western band. She has a great voice, a great band behind her, and a lot to say about the situation of women in her country - she wears a beautiful, elegant, very short western dress which is likely to be a statement and an act of defiance in itself.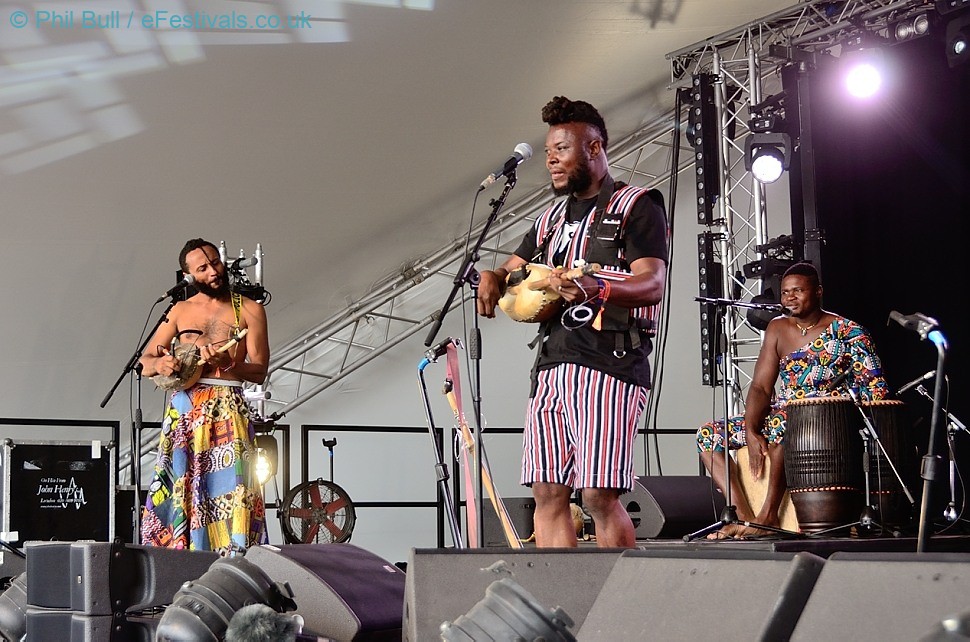 Osibisa (Ghana/UK) are next on the main stage, and Peter Gabriel introduces them. Still going strong after all these years (they started out in 1969!), they have two of their original members and play some of the finest Afro rock to the happy crowd. Well, they've practically invented the genre.
Having sampled a bit of Nubiyan Twist's (UK) Afro-jazz, I wandered past the main stage looking for something to eat, thinking that ADG7 (South Korea), who are billed as K-pop would probably not be my thing, but because my 14 year old back home rates K-pop, I wanted at least be able to say that I'd had a look. How wrong was I, that will teach me to check my musical snobbery every now and when. They blended Korean folk, pop, bright costumes and theatrics to great effect.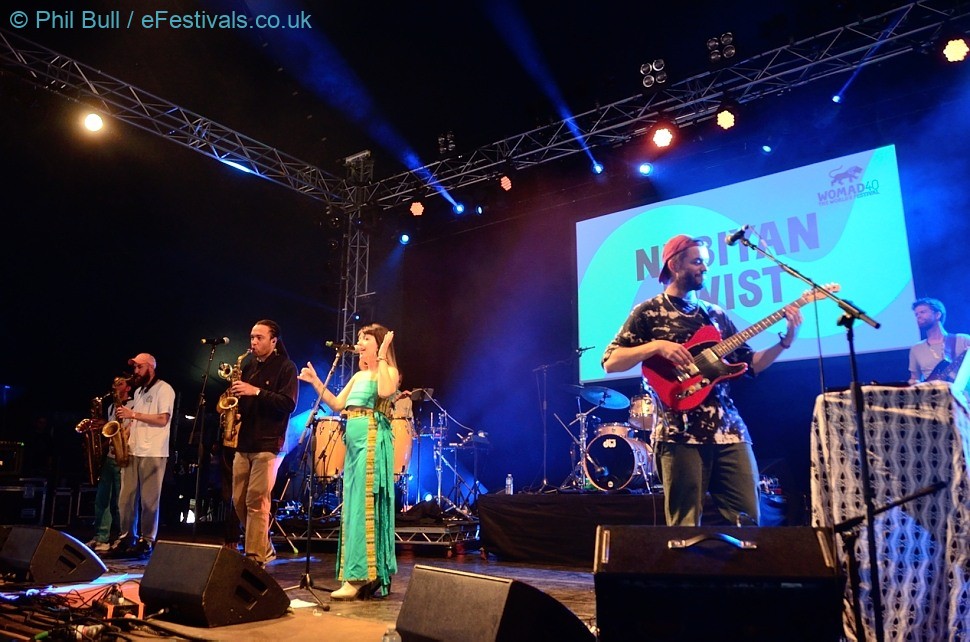 And then there was Bab L'Bluz (France/ Morocco), another band fronted by a great female singer; she sings the blues, Moroccan style, blended with Gnawa traditions and a guembri – echoes of Electric Jalaba, and just as good.
At this point, the festival was turning into a tor de force of highlights, next on the main stage - Les Amazones D'Afrique (Mali/Benin/Guinea), the energetic female supergroup with shifting membership. Followed by Nitin Sawhney (UK) at the Siam Tent. I remember seeing him in play WOMAD in 2003 – also at the Siam Tent. He already was famous back then, but has come a long way and is incredibly assured now, supported by three female singers and great percussion. And he seemed genuinely pleased at the large crowd he'd drawn to that tent. A very accomplished set.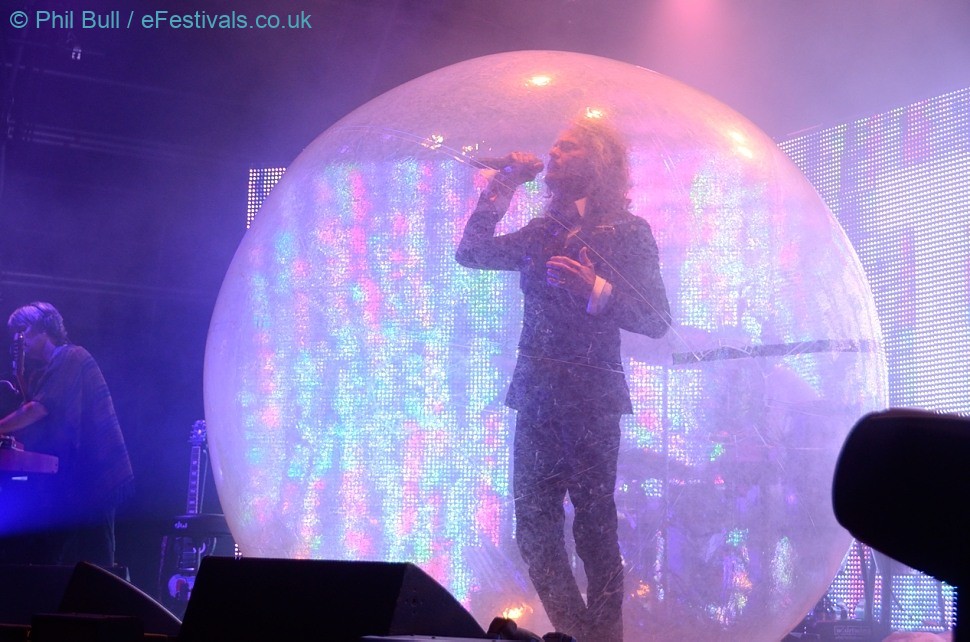 The Flaming Lips (USA) had Saturday's headliner slot on the main stage. And of course they played all their whacky crowd pleasers and blew up robots and everyone was having a fine old time. Although I do wish that Wayne Coyne would spend less time in that bubble. Late at the Siam tent, B.Dance (Taiwan), on the other hand, got as exposed as one can be and gave a stunning example of universal communication through modern dance. An absolute visual treat (check out some pictures!).
Sunday started with Kanda Bongo Man (Democratic Republic of Congo), his links to WOMAD go back to its very early days. Stornoway (UK) played a farewell gig at the d&b stage at the same time, and the clashes continue. Next, the Mariachi Las Adelitas drew a huge crowd at the rather small CG stage, I am being told, deservedly so. I'd recently seen them in London supporting Calexico, they are a great all female Mariachi band drawn together from many countries. But they are up against Son Rompe Pera (Mexico), who I'd never seen before. And I really wanted to know what marimba punk would sound like. Glad I did. Although this was a weekend stuffed with highly energetic performances, they took the crown.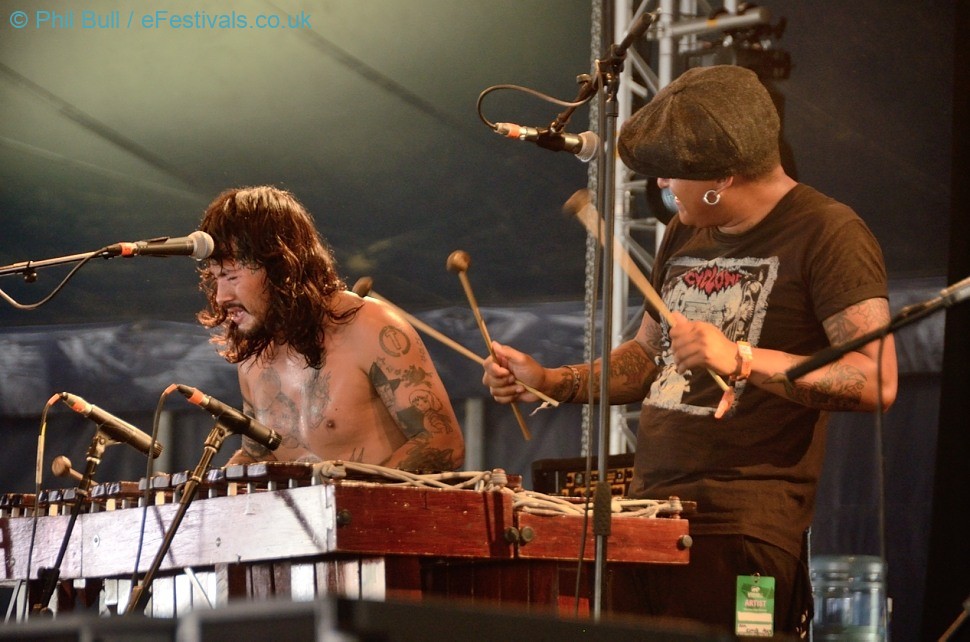 Another Sunday highlight had to be the Dohl Foundation (UK), the irrepressible Johnny Kalsi with his disciples, they too have a long and close connection with this festival. Johnny seems to have had some personal setbacks, but whatever life throws at him, it cannot dampen his enthusiasm. He let the talented 8 year old drummer Anabel upstage him, right at the start. He brought musician friends from Birmingham along for good measure. They pull out all the stops. It is a great bhangra-and-all-kinds-of-influences performance, life affirming and joyful, with interesting visuals, just what everyone needed after the last three years.
Al-Qasar (France/Morocco/Algeria/Egypt/USA), intriguingly described as Arabian psych-rock in the programme, lived up to that description as they played at the Ecotricity stage in the afternoon. I think I have heard more psychedelia influenced music at WOMAD this year than I have at any other festival for a very long time. And that's a good thing. I've missed this genre.
We had pretty perfect weather. Warm, sunny, the odd shower helping to keep the dust down, yet never enough rain to create muddy conditions anywhere. But with a crowd so chilled and determined to enjoy themselves, perhaps almost any weather would have done. Most importantly, it did not rain on the children's parade on Sunday afternoon. This year, the procession of all the art and outfits created by the kids on site was lead by a splendid puppet of the WOMAD lion, made especially for the anniversary by the Dot To Dot Collective. And I spotted a few of the performers participating in the procession, such as the Mariachi Las Adelitas. No longer having a child of a suitable age, I did not really check out the children's entertainment this time, but this display and the number of families on site are an indication that it was as good as ever.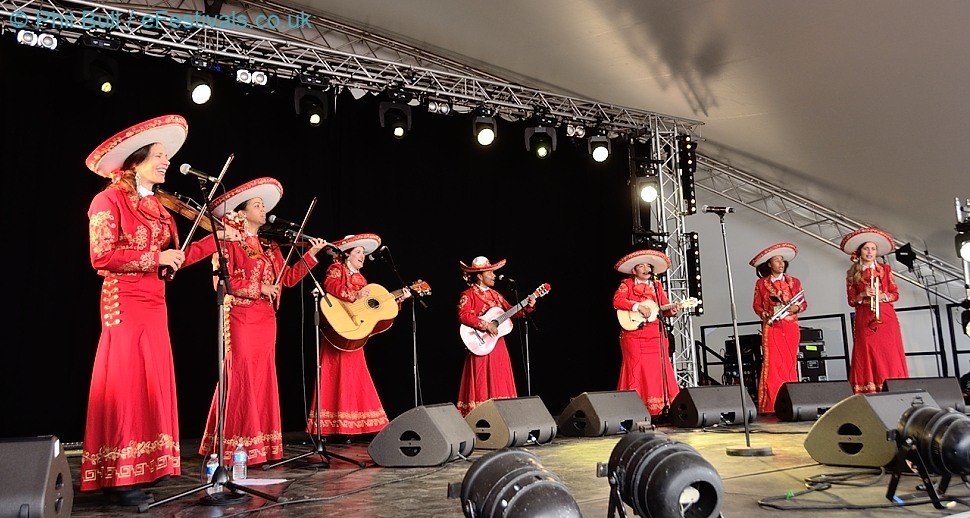 After the procession, it was clash and decision time again, Dudu Tassa & The Kuwaitis (Israel) played a powerful set of rocked up Iraqi classics. I split my time between this and Jasdeep Singh Degun (UK/India), an accomplished young sitar player. The crowds are not as big as I expected for either performer, and suddenly it dawned on me, loads of people have assembled to cheer their team to victory – it's the women's euro football finale, and it was being shown at Molly's Bar. Congratulations, ladies!
Minyo Crusaders (Japan) – another performance that I did not expect to like that much, but was proven wrong. They have found a way to make Minyo interesting again (a genre I had linked in my head to somewhat boring crooners in music halls) and propped it up with influences from other genres. It worked, at least for me. And so did their infectious enthusiasm to communicate with a mostly English speaking crowd.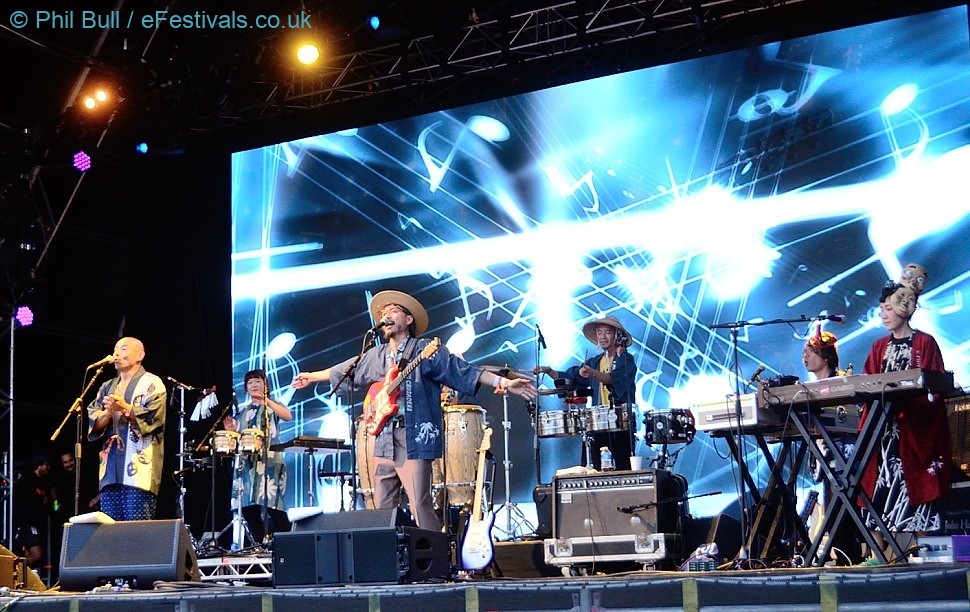 Gilberto Gil & Family (Brazil), who played next at the Siam tent, already has a famous name, as one of the most respected performers from his country. At 80, he's looking back over his career and performs with several generations of his family, a treat for lovers of Brazilian music. And I am not even a fan of that Girl from Ipanema song. After so much chilling, Lianne la Havas (UK) proved to be a little too smooth and chilled for me, I was craving something different. And so, WOMAD 2022 ended with dancing to Onipa (UK), endearingly described as Afro-Futurism in the programme, and listening to Ramy Essam (Egypt), the young man who was made famous by his performance of Irhal, the song that accompanied the end of the old regime in Egypt back in 2011. It made him a target of political persecution, though, and now he lives abroad. There's a complex story he wants to tell with and through his music.
As I hobbled back to the campsite, full of great impressions but sore of feet, I realised that I'd forgotten to seek out the Museum Of The Moon, a large art and music installation in the secret forest. Everyone said it was great. I ought to make more time for things like this.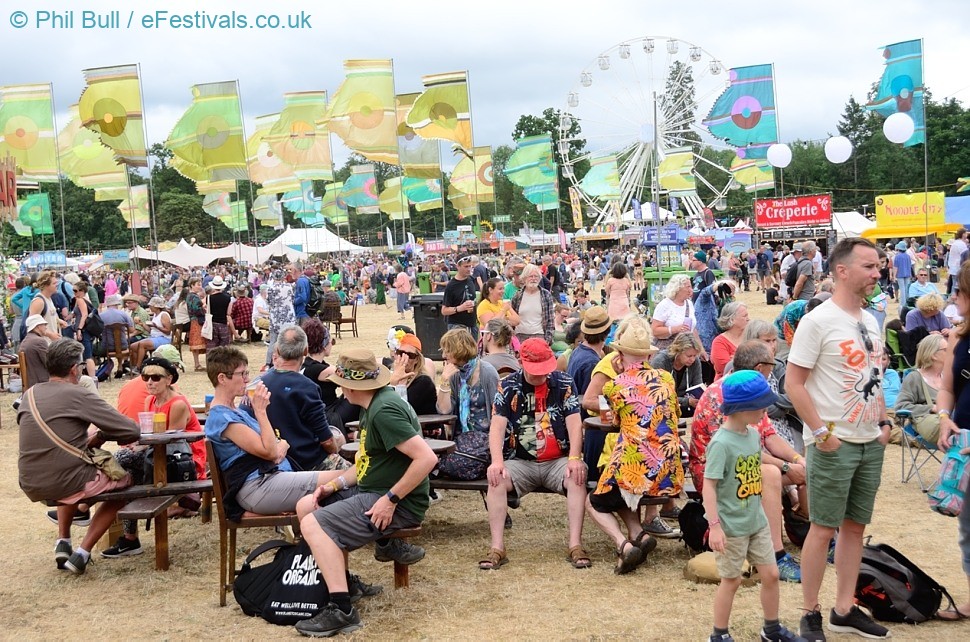 Whilst I did not look much at the shopping options either, I certainly ate well, if somewhat hastily – so many bands, so little time! The food stall choices are as good (and as pricey) as ever, you can not only listen but also eat your way around the world here. If I had to crown a personal favourite, it probably would be the Indonesian Coconut Curry. Many stalls had long queues all weekend, whilst that surely reflects the quality of their offerings, it was also a sign of more people being on site this year. And on Sunday night, most of them had run out of their vegetarian options. Well, shrugged the woman who was trying to order something next to me – "that's WOMAD punters for you".
What the organisers must have gone through in order to get the performers from all around the world to this park in Wiltshire, given the still shifting pandemic-related regulations and all kinds of travel transport problems we are all too aware of, I can't even begin to imagine. On top of this, some performers did not get visa permits, or only half their band did, a frustrating and recurring problem. But over 80 bands and performers made it, and the line up was as varied, interesting and eclectic as ever. And of a very high standard. I hope we as punters did enough to make everyone feel welcome in Wiltshire. It's great to have this festival back.
And we shall continue to leave our campsites spotless. Promise!
review by: Katharina
photos by: Phil Bull
Latest On This Festival
WOMAD 2024
festival details
last updated: Thu 30th Nov 2023
WOMAD Festival 2023 - The Review
One of the most diverse festivals around reels in another year of cultural and musical discovery
last updated: Tue 22nd Aug 2023
WOMAD 2023
line-ups & rumours
last updated: Thu 13th Jul 2023
WOMAD 2023
festival details
last updated: Thu 13th Jul 2023
WOMAD – The World in a Weekend 27-30 July 2023 REVEALS MORE ARTISTS
last updated: Wed 3rd May 2023