WOMAD

2016
Thursday 28th to Sunday 31st July 2016
Charlton Park ,

Malmesbury

,

Wiltshire

,

SN16 9DG

,

England
MAP
£175 for three days
daily capacity: 40000
last updated: Tue 5th Jul 2016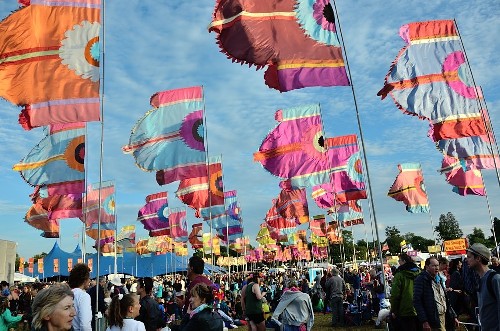 Bringing together many forms of music, arts and dance from countries and cultures around the world on seven separate stage and workshop areas.
WOMAD stands for World of Music, Arts and Dance, and returns to the picturesque site at Charlton Park, near Malmesbury in Wiltshire from Thursday 28th to Sunday 31st July 2016.
Line-up
George Clinton And Funkadelic/Parliament, Baaba Maal, John Grant, Roots Manuva, Charles Bradley, St. Germain, Anoushka Shankar, Buika, Ibrahim Maalouf, Grit Orchestra, Pat Thomas & Kwashibu Area Band, Toumani Diabate & Juan Carmona & Josemi Carmona & Javier Colina & Guests revisit Songhai, Konono No1, King Creosote, Bamba Wassoulou Groove, Fuel Fandango, Hackney Colliery Band, Inna Modja, Iration Steppas, Kapucha, Onra, Twelfth Day, Sidestepper, Baloji, Desert Slide, Hot 8 Brass Band, Aziza Brahim, This Is The Kit, Auntie Flo, Aynur, The Breath, Cabruera, Dubioza Kolektiv, Federico Albanese, Florian Keller, Kefaya, Kim Juhong's Ensemble Noreum Machi, Meta and The Cornerstones, Pierce Brothers, Selda Bagcan & Boom Pam, Zmei 3, Muzykanci, Afriquoi, Ethno Trio Troitsa, Tetish, The East Pointers, Blick Bassy, Dom La Nena, Moh! Kouyate, Lula Pena, Ana Tijoux, Asiq Nargile, Alash, Amaraterra, Bafula, Diabel Cissokho, Kel Assouf, Le Vent du Nord, Ngawang Lodup with The Monks from Tashi Lhunpo Monastery, Otava Yo, Volosi, Broadway Sounds, Chouk Bwa Libete, Cuncordu e Tenore de Orosei, Hanoi Masters, Heartbeat, Hindi Zahra, La Mambanegra, Lura, Mercedes Peon, N'Diale, Sons of Kemet, MC Soom T, Wiyaala, Xaos, and all-woman supergroup Les Amazones D'Afrique featuring the voices of Oumou Sangare, Mariam Doumbia, Kandia Kouyaté, Rokia Koné, and Mamani Keita.
Latest additions Jah Shaka, Dawn Penn, A Guy Called Gerald, Francois K, Black Devil Disco Club, Optimo, The Invisible, Cats Eyes, Native Dancer, Hollie Stephenson, Gwilym Gold, Paddy Steer, The Anchoress, Stuart McCallum, and Nick Luscombe & Steve Hellier.
Those arriving early have the added bonus of music on Thursday night with Asian Dub Foundation, Imarhan, and Malmesbury Schools Project with Escola de Carnaval.
The full line-up features around 100 artists from 40 countries performing over the festival weekend.
For the line-up details as available see the WOMAD line-up page.
Tickets
Early bird tickets sold out in record time in December. Weekend tickets - which are valid from the Friday until Sunday are priced at £175 (Thursday arrivals will also need a Thursday camping ticket costing £35).

Other ticket prices & options available include:
Teenage Weekend Ticket (aged 14-17) £85
Disabled Weekend Ticket £145
SN16 Resident Weekend £120
A campervan ticket £70
Spa Ticket £105 (sold out)
Park & Camp £75
La-Di-Dah Loos £25

Children 13 and under can come free with each adult ticket holder, but need a free child ticket.
An adult day ticket is priced at £90, a teenage day ticket is £50, and an SN16 resident day ticket is priced at £70.
All children must hold their own ticket and must be accompanied by a ticket holding parent or guardian over the age of 21. One ticket holding parent or guardian can only accompany up to 4 people under the age of 18. Names of teenagers must be registered when purchasing tickets. Thursday tickets do not need to be purchased for children aged 13 and under.
Global village
WOMAD offers festie fodder from around the globe and a Real Ale Bar, a Cider Bar, and the 'Taste the World' tent where some of the artists will show off their cooking, and usually stage an impromptu gig.
There's more to explore at WOMAD this year, including the weird and wonderful hub that is the World of Words which is simply packed to the gills with comedy, slam poetry, talks, authors and much, much more! A lyrics-writing masterclass by Squeeze frontman Chris Difford, a What The Papers Say panel discussion with Rupert Evelyn and spoken word madness at the Hip Yak Poetry Shack.
Bowers & Wilkins, the British audio innovator, will also make a return with its acclaimed Sound System providing the audience with a more rewarding and immersive festival experience by bringing them closer to high fidelity music. The exciting line-up will be announced soon.
In an exciting new addition for 2016 The Physics Pavilion bridges the gap between science and entertainment, with a fun and fascinating programme featuring the likes of lead Doctor Who writer Steven Moffat who will discuss how the programme blends science fact with science fiction.
Among other horizon-expanding activities on offer at the Physics Pavilion are opportunities to learn about space weather, light drawing and the physics of fireworks, get hands on by creating a cloud-in-a-box and go live into the control room of the ATLAS experiment at CERN's Large Hadron Collider in Switzerland and hear from those who work there.
The Physics Pavilion bridges the gap between science and entertainment, with a fun and fascinating programme featuring the likes of lead Doctor Who writer Steven Moffat who will discuss how the programme blends science fact with science fiction.
The theme for this year's World of Children is Brazilian Carnival, where the fiesta never ends as kids get the chance to join the circus, learn how to samba and even become movie stars in the filmmaking workshops. Watch this space for more details on how to chill out in style at the World of Wellbeing where festival goers can sit back and relax with one of the many treatments on offer, from massages to yoga sessions.
Choreographer and director Matthew Bourne will be inspiring kids and adults alike to don their dancing shoes as two of his leading choreographers from his company, New Adventures & Re:Bourne will host masterclass lessons for all ages in The Happening Tent.
Another returning favourite to stimulate the brainwaves is World of Words, with this year's events including an appearance at the Hip Yak Poetry Shack from the official poet for the London Olympics Lemn Sissay MBE, Squeeze's Chris Difford giving a lyrics-writing masterclass, a topical What The Papers Say panel hosted by ITV reporter Rupert Evelyn and featuring The One Show's naturalist Mike Dilger, a weekend-long residency by cult U.S. magazine FOUND fronted by Senior Editor Sarah Locke, author and Grammy nominated producer Ian Brennan, who will be shining some light on where things have gone wrong with popular music, as discussed in his new book 'How Music Dies (or Lives)' and, at the Ecotricity stage, Jon Snow will host discussions on how to achieve a Green Britain with youngsters aged 11-16.
The Taste the World Stage will be bigger and better than ever for 2016 - a fusion of food, culture and music as artists cook up a storm and introduce audiences to dishes from their own countries, all entwined with musical interludes and intimate personal anecdotes – and a new partnership with sustainable wine merchants Yalumba means they will be providing some wines to wash it down with.
Workshops
Music Workshops for adults, will include participatory sessions with WOMAD artists. Festival goers will be able to immerse themselves in the stories behind the music, learn the origins of rare and unusual instruments, and more.
Gamelan
Woodland Gamelan are expected to return to this year's festival bringing their unique tools, tents and imaginations back to the arboretum, ready to convert the smallest piece of wood into the simplest instrument or create a full gamelan.
Children
The festival is aimed at the whole family, and allows all children aged 13 years and under, in for free. WOMAD promises even more stuff for kids and young people than ever before. 'The World of Kids' will have the usual comprehensive programme of workshops, entertainment and activities. They are held throughout the weekend culminating in the Children's Parade which starts from the Children's area traditionally at 6pm on the Sunday and winds it's way through the main arena.
More information will be here when available.
WOMAD

2016
Thursday 28th to Sunday 31st July 2016
Charlton Park ,

Malmesbury

,

Wiltshire

,

SN16 9DG

,

England
MAP
£175 for three days
daily capacity: 40000
last updated: Tue 5th Jul 2016
Latest On This Festival
WOMAD 2024
festival details
last updated: Thu 30th Nov 2023
WOMAD Festival 2023 - The Review
One of the most diverse festivals around reels in another year of cultural and musical discovery
last updated: Tue 22nd Aug 2023
WOMAD 2023
line-ups & rumours
last updated: Thu 13th Jul 2023
WOMAD 2023
festival details
last updated: Thu 13th Jul 2023
WOMAD – The World in a Weekend 27-30 July 2023 REVEALS MORE ARTISTS
last updated: Wed 3rd May 2023