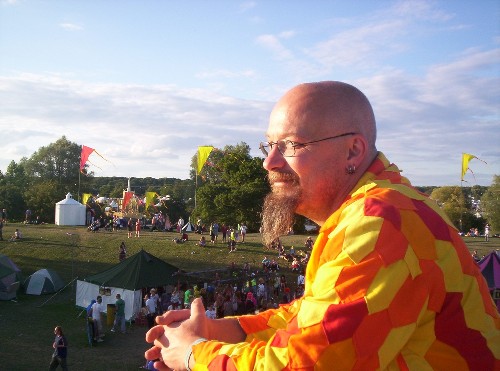 The Green Gathering

2015
Thursday 13th to Sunday 16th August 2015
Piercefield Park,

Chepstow

,

Monmouthshire

,

NP16 6BE

,

Wales
MAP
£95 for a weekend ticket
daily capacity: 5000
last updated: Wed 22nd Jul 2015
The man with the amazing jacket Green Gathering's entertainments co-ordinater Dave Weirdigan talks about Green Gathering and it's importance in the United Kingdom.

Who are you are, where are you from and which festival do you work for?

I'm Dave Weirdigan, I'm from the north and I spent the first ten years of the 21st century touring the summer festival circuit baking cakes and serving tea with Weirdigans Organic Cafe. We still make some tea and cake if you know where to find us, but most of my festival energy goes into arranging the musical offering of the Green Gathering.

Tell me about your early life and how you got switched on to music?

Typical upbringing in southern suburbs of Manchester - my first notion of music was the trad jazz my dad used to play.

What was your first gig or festival?

First gig was a third-rate Rock Band called 'More' at a long extinct nightclub in the heart of Manchester - must've been about 13... got a banging headache, left early, got mugged on the way home... First festival - Stonehenge '84 - much better all round :-)

What was your first music job and what other jobs have you done within the industry?

Never had a proper music job before, but have been organising and putting on events in various guises all my life.

Describe your event, What is it's history leading up to the present?

There were Green Gatherings on Glastonbury's Worthy Farm and at Molesworth peace camp in the '80s, the Green Party arose out of Green Gatherings, and then there was the famous Big Green Gathering which ran for over a decade until it was closed down by police in 2009.

In 2011 a new incarnation sprang up, a smaller back-to-its-roots Green Gathering. By 2014 word was well and truly out that the original off grid festival was back. 2015 is looking very exciting.

Tell us what makes it special.

It's one of only a few genuinely uncommercial festivals on the circuit; it's also totally off grid, with all the stages, cafes and lights powered by renewables.

There's loads of music, but there's also tons of other stuff to do - you can listen to activists rant or poets perform, learn how to forage for wild food or wire up a solar panel, spend all day in a craft workshop or tipi lodge, practise yoga at dawn or play the piano into the wee hours. There's almost as much for kids as for grownups (under 11's go free) and the cafes and bars sell good quality, reasonably priced food and locally brewed ales and ciders. No rip-offs, no 'arena' rules, and a really friendly - as well as stunningly beautiful - site.

The slogan says it all, it's "a festival beyond hedonism" where you can party, then wake up and work out how to change the world for the better with your new mates from the night before.

What is your role at the event and what does your average day consist of?

I'm the Ents co-ordinator. Before the festival I book all the performers and deal with their logistics. Once the festival starts I'm the responsible person holding the reins and taking the blame, whilst the Ents crew look after the acts and all their needs. If I've got it right, I'll have done 99% of the work before the event itself kicks off. I've got a great team who know intuitively what to do, so my ideal day is to see all the great bands I've booked whilst no-one bothers me on the radio for hours-on-end...

What really happens is a crazy mash-up of unexpected situations from all areas of the festival that keep me from seeing more than a couple of minutes of the entertainment I've booked... we're a big Green family at the Gathering and helping to sort other folks' difficulties is the karmic payback for not having any of your own.

What was the best moment for you at your event?

Losing the plot to a stunning rock 3-piece called 'The Black Arrows' on the Sunday evening, about 9pm - finally letting my hair down and accepting the fact that we'd put on a phenomenally successful old-school festival whilst remaining totally uncommercial, unsponsored and definitely unspoilt...

What was the least enjoyable moment at your event?

Talking down the camp-fire psycho who was absolutely going to fight someone, anyone...

Who is on this year's line-up?

Early days as yet, but The Undercover Hippy is headlining on the opening Thursday night and i've just confirmed Martha Tilston on the Friday. We've got 4 stages with a huge variety of styles and talent - plenty of choice for everyone - we'll be announcing bands in a steady stream as we get nearer the event...

Who would be on your dream line up for your event?

The glib answer would be "just take a look at the line-up on our website" but if we're talking big dreams I'm a fan of loud noise and conscious lyrics and I'd love to host Enter Shikari - this might upset the neighbours... but as the festival is just over the border in Wales we'd point the speakers towards England and not worry too much about it...

Which other festivals do you attend and which ones are your favourites (and why)?

We still take the cafe to Knockengorroch festival (the World Ceilidh) over the late May bank holiday. It's in the Scottish borders, not far from Dumfries, and is definitely the rootsiest, friendliest, old-school festival on the circuit. 4 miles from anywhere it simply has to be experienced. I still enjoy Glastonbury - we go as part of Greencrafts - again, the Greenfields still hold onto the free-festival vibe I love, whilst if Babylon didn't exist, you'd have to invent it. And i'm looking forward to a new incarnation of Solfest in northern Cumbria, over the August Bank Holiday weekend - after a year off they'll be brimming with energy and new ideas...

Who do you think we should be looking out for at festivals this year?

I was wowed by Formidable Vegetable Sound System last year - Australia's finest exponents of 'ecological electroswing' - i know they're back this year 'cos i've just booked them for the Green Gathering...
The Green Gathering returns for a fifth year to Piercefield Park of Chepstow, in Monmouthshire and held from Thursday 13th until Sunday 16th August 2015.
The line up will include Martha Tilston, The Roving Crows, Radical Dance Faction (RDF), Formidable Vegetable SoundSystem, Smiley & The Underclass, Jazz Gnome Assassins, Billy Rowan, Will Tun & the Wasters, Krankschaft, Suzy Condrad, and Tallulah Rendall. Live music and DJs are just one aspect of this, off grid festival.
Live music and DJs are just one aspect of this, off grid festival. A Speakers' Forum provides a platform for key Green thinkers; the Brigadoon Stage hosts informal acoustic music sessions; and there's a spoken word arena for poets, comedians and raconteurs.
With the strapline 'beyond hedonism', The Green Gathering blends protest culture and environmental activism with wild music and wanton dancing in the best tradition of old-skool festival.
Landscaped grounds high above the Wye Valley offer views of the Severn estuary and bridges; the ruins of neoclassical Piercefield House provide an atmospheric backdrop; and the rolling parkland of the site, encircled by woods, has ample space for camping.
Tickets are currently priced at £85. Children aged under 11 years can attend free, a youth ticket (aged 11-15 years) with a responsible adult is £54, carer/companion tickets are also often free (by arrangement).
A car pass (in hardstanding carpark) is priced at £22, a motorbike pass is £11, and a live-in vehicle pass is £50 (live-in vehicle passes sold out in 2014), or £60 for a car and caravan. A limited number of dog tickets are available at £44 plus a £40 returnable good behaviour bond.
interview by: Richie Cadence
Latest On This Festival
The Green Gathering POSTPONED 2021
festival details
last updated: Tue 6th Jul 2021
The Green Gathering 2021
line-ups & rumours
last updated: Thu 22nd Apr 2021
The Green Gathering
festival home page
last updated: Mon 19th Oct 2020
The Green Gathering - POSTPONED 2020
festival details
last updated: Wed 13th May 2020
Guranfoe — Live at Green Gathering 2019 (August 2 / Show II)
video of the day
last updated: Thu 16th Apr 2020