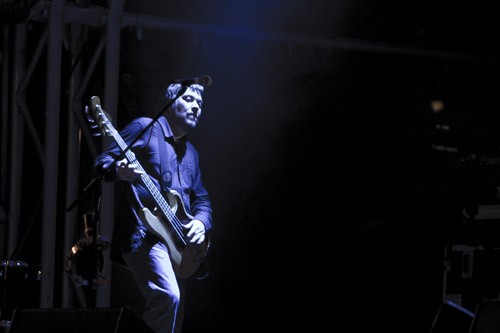 The Green Man Festival

2010
Friday 20th to Sunday 22nd August 2010
Glanusk Park, Usk Valley, Powys, Wales,

NP8 1LP

,

Wales
MAP
£120 adult weekend ticket - SOLD OUT
last updated: Mon 12th Jul 2010
With a beautiful venue, a stellar line up, a great variety of real ales and the best festival food you could ever desire (with a special mention to the rotisserie chicken!) what else could you want to make the perfect summer festival? Oh, did I mention that this heavenly sounding weekend takes place in the land of my fathers, Wales? On the way to the rolling hills of the Brecon Beacons the rain starts, right on cue, halfway across the Second Severn Crossing. After a respite from the rain in 2009 it was clear that 2010 was going to be business as usual.
Arriving on Thursday evening we were given a few moments of dry weather to set up camp before the heavens opened once more with a period of rainfall that was going to last through the night and well into Friday. After attending the previous two Green Man Festivals we could now almost count ourselves as regulars so decided to venture out of the festival site for the first time and explore the nearby small town of Crickhowell.
The rain and the pending mud bath of the campsite led us to take the 50-minute walk alongside the River Usk to the quaint town centre with local independent shops and welcoming (and dry) pubs. It was clear that many other festivalgoers had the same idea and were also taking advantage of the local hostelries and their tempting rewards.
The 50-minute trek back down the muddy path and cornfields was getting less and less appealing but we knew with plenty on offer back at the festival that we had to get going and we made it back to the site just in time for the folk-rock of
Erland and the Carnival
, featuring multi-talented Simon Tong (once of The Verve and Graham Coxon's live replacement in Blur). Their debut self-titled album is a great psychedelic folk affair with some great storytelling, particularly on The Derby Ram recounting a newspaper report of a suicide jump in Derby a few years ago where crowds watched and shouted at the jumper as they filmed on their mobile phones ready to post to youtube and send on to their friends in one last moment of indignity.
After catching the end of what seemed like a well received set from electro-poppers
Chew Lips
in the Far Out stage it was time for our first trip into the walled gardens of the Green Man Pub for
Caitlin Rose
. However with an altered line up this wasn't whom we saw, instead we were treated to the glorious harmonies of
Mountain Man
, an all female three-piece from Vermont who have been compared to Fleet Foxes (but hasn't every group that sings with harmonies?). At times joined by an acoustic guitar, Mountain Man rely mainly on their beautiful voices as on the lush debut album Made The Harbor and you may never hear three voices that complement each other so delightfully.
Back at the Main Stage, with its newly added big screens at either side, it was time for
John Grant
. Formerly the front man of The Czars, Grant has released his first solo album Queen of Denmark to much acclaim, and rightly so. It is a stunning blend of song writing genius and haunting melodies on which folk heroes Midlake back Grant. The only apprehension I had before the set was whether Grant's songs would be lost without the backing from Midlake but I was happy to be wrong, in fact with only one other musician on stage with Grant, who alternated between guitar and piano, it was Grant's booming, yet delicate, voice that took centre stage. Playing one song from his days in The Czars, 'Drug' , "the only song I am proud of writing when in The Czars" mixed in with instant classics from Queen of Denmark such as 'Sigourney Weaver' and 'I Wanna go to Marz' which lyrics consist mostly of various types of sweets available at a sweetshop called Marz in Grants hometown in Michigan. It is on the unexpected, and unplanned, a cappella version of 'Chicken Bones' where Grant's amazing vocals win the crowd over and he seems like a man that is finally comfortable with himself after many years of much documented self-hate.
| | |
| --- | --- |
| | |
| | |
Last time I saw Zach Condon's
Beirut
was at Glastonbury in 2007 when Condon's inebriated state took a little of the shine off of their Balkan-influenced gypsy folk. This time around was a more sober affair with 'Postcards from Italy' providing the highlight. There was, however, some concern over how much Condon is starting to look like Donny Osmond.
Taking on the moniker of "Band most likely to do an Elbow" are
Doves
, which is strange as they have had two number one albums but is most likely because they are 'northerners' and perhaps more 'mature'. They have promised to go stratospheric for some time now but have never quite managed to make that crossover but with more performances like their headlining set on the Main Stage could see that happen sooner rather than later. Closer 'There Goes The Fear' leaves everyone humming the riff on the way back to their tents or to continue the evening at one of the smaller stages. We head to the Far Out stage to see the climax of
DJ Yoda
's set before drying ourselves out over at the campfire.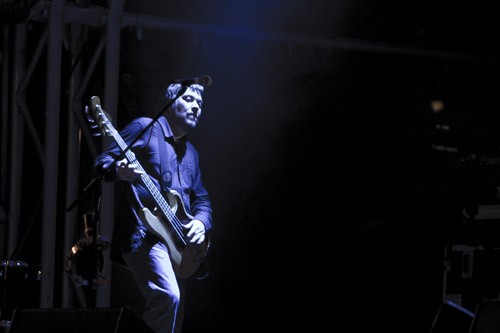 review by: Richard Stevens
photos by: Sarah Stevens
Latest On This Festival
The Green Man Festival 2024
festival details
last updated: Tue 3rd Oct 2023
Green Man 2023 - The Review
another stunning Green Man is bittersweet to depart
last updated: Sun 3rd Sep 2023
The Green Man Festival 2023
festival details
last updated: Fri 21st Jul 2023
The Green Man Festival
festival home page
last updated: Mon 23rd Jan 2023
Katy J Pearson - Alligator (Green Man Festival | Sessions)
video of the day
last updated: Sat 14th Jan 2023