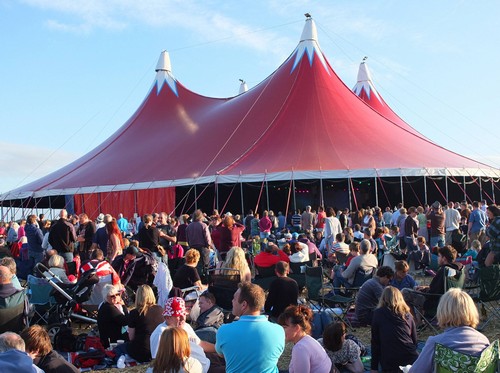 Wickham Festival

2012
Thursday 2nd to Sunday 5th August 2012
Wickham, Hampshire,
England
MAP
£135 for full 4-day weekend, £67.50 for under-16, with under-10s free
daily capacity: 5000
last updated: Tue 10th Jul 2012
Arriving at Wickham, the impression you get is one of a festival with ambition. Compared with last year, there is more on offer on all sides. There is an extra stage, an extra bar, more festival fringe activities and a top notch line up, with something for everyone on the bill.
The festival is aptly bookended by a couple of acts which neatly sum up its ethos: the
Jason Wilson Band featuring
Dave Swarbrick
, &
Dick Gaughan
, who play on Friday, and Sunday's
Edward II
. Both combine musical styles and come up with innovative and fresh sounding results. The festival itself echoes this approach, offering a diverse bill, ranging from The Proclaimers to the Wurzels, via Lady Maisery and Bellowhead, with pretty much anything you fancy anything in between.
New for this year is a second, open air stage, showcasing emerging acts. It might be the sun in the sky, or the straw on the ground, but it's the acoustic acts that seem to be doing well here. Anything that's a bit country, a bit gypsy or a bit organic is eagerly lapped up by the gathered crowd. It's the kind of stage where you can just lie in the sun and soak it up. My favourite act of the weekend is
Catherine Burke
, who plays a cultured sort of country. Kids dance manically at the front, and their hung-over parents lie in the sun and listen, waiting for them to flop.
Wickham tends to have an affinity for Scottish acts and again there is some symmetry on show. The Friday headline slot is a north of the border double header featuring
The Proclaimers
, and
KT Tunstall
. KT is first, all solo, sparkly and spontaneous. She is accompanied by a guitar, a couple of bits of far eastern technical wizardry, and a fine line in trumpet noises. That's all she needs to whip up an eager crowd. The Proclaimers follow. They don't talk much, they just play the songs we all know and love. They're fine value and an entertaining first day is rounded off in splendid singalong style.
Sunday also has a bit of a Scottish vein running through it, and quite sophisticated it is.
Session A9
are on the main stage early, and they're just the thing for milking an atmosphere of sun-up, early morning freshness. They draw in a packed crowd, eager to appreciate the ingenuity of their offering. Later, the
Rachel Hair Trio
supports Lady Maisery in the community centre. Their material is based around Rachel's sweet Scottish harping and it presses all the right buttons of the small but discerning crowd. Rachel is definitely one to watch.
Other signs of Wickham's ambition are evident on the festival site. There's a rich assortment on food traders, offering top quality nosh from all corners of the globe. There's a Lambretta selling fine coffee from Italy, and a big red London bus selling drinks, cream teas and cakes. Elsewhere there are crepes from France, paella from Spain and a stall with a fine line in chick pea curry and veggie burgers. Then there's a fine array of merch, ethnic clothing, festival hats and posh jewellery stalls. You know you're at a posh festival when there's a jewellery stall. I'll say no more.

The non-musical entertainment is of a similar calibre. There's a story telling tent, a talking robotic dog and a whole entire circus at one end of the field. Then there's The Groovy Movie Solar Powered Cinema. People wind up here, and lie on the carpeted floor, sipping tea, in the wee small hours after everything else has finished. During the day there's a heap of good stuff on offer. This year, there's the usual range of eclectic movies, in addition to live entertainment from
Hattie Hatstar
, and
Jolly Jock
. It's a great place for wringing every lush, last bit of joy from your festival day. I venture in of Sunday afternoon to catch
Jigfoot
who are providing musical accompaniment to a silent movie they've made about mumming. It's not the kind of thing you expect to see at a festival in 2012, but it's a one off experience and a superb festival find.
The campsite tells a similar story of aiming high. There are posh wash showers which, get this, remain hot throughout the festival. If you avoid the 9-10 rush, you'll be faced with an array of vacant showers, no queues, no waiting. The toilets however, are the normal green, plastic, festival kind where it's a good idea to bring your own bog roll and handwash. The organisers assure us though, that next year's toilets will be more on the posh side.
Wickham is one of those festivals which likes to spread out and rub shoulders with its host community. In Wickham village, you'll find all sorts of Morris sides, doing their stuff throughout the day. They provide a lovely moment when a holidaying African couple ask to have their pictures taken with the dancers. They oblige, and our couple can return home and regale their neighbours with tales of traditionally adorned natives and the tribal dances of the north, the borderlands and darkest Oxfordshire.
Then there's the community centre, which plays host to assorted festival fringe activities. It's here that the workshops happen. On Saturday morning the choice is between learning Border Morris from the brilliantly black
Wolfshead and Vixen
, or going upstairs to learn accordion from no less than
Karen Tweed
. Both of these workshops are of the 'come and try it' kind, and are impressive in terms of the progress people make, given the time available. By the end, the downstairs people have learned a Morris dance, beginning to end, and the upstairs people have a tune down on the accordion. All would have left with a glow of inspiration, and hopefully a fair few will carry things on. Definitely kind of thing we like to see.
In the afternoons and evenings, the community centre hosts concerts from a range of artists, many of whom are of main stage headlining calibre.
Karine Polwart
plays on Friday, then on Saturday it's
Nancy Kerr & James Fagan
. For a final day highlight we get the brilliant
Lady Maisery
. Playing to a small but perfectly formed audience, they weave their Maisery magic, charming us with their sweet unaccompanied harmonies, dazzling us with their instrumental brilliance, and diddling us doolally with their tune singing.
Saturday on the main stage is mostly an English affair, with the notable exception of
John McCusker
, who is accompanying
Heidi Talbot & Boo Hewerdine
. They admirably compete with a robotic joke-telling moose and a fearful racket of a salsa band, winning by a knockout and sweetening the festival mood no end.
Then it's over to the brightest and best of the English scene and
Belshazzars Feast
seem to capture the mood perfectly. We're British, the sun is out, the flags are fluttering, we're all wearing our sandals, we're all wearing our socks and we're turning red in the sun. It's a set that is high on participation, the ample crowd singing along and doing actions. Its end of pier stuff, delivered with a professional, but sly, musical panache. They're joined at one point by Karen Tweed, dressed as a flower, with a beard. She's here to sing happy birthday to
Jackie Oates
, who follows. Jackie is on fine form, playing a wisely chosen set to a largely unfamiliar audience. The material is mostly from her recent albums, Saturnine and Hyperboreans. We get some tunes from her band too. The bloke next to me declares himself blown away by her looped 'cello Sugarcubes cover, Birthday; very apt for the occasion.
Home Service
play the transitional late afternoon / early evening slot and are the perfect mood enhancer of an act. Mellow and nostalgic, it's a bit like watching 1970's TV. Those of a certain age will know the feeling: the wrestling has been on, now its time to get serious. Again, it's a double bill of headliners, both with new albums out in October. Its Show of Hands first, followed by Bellowhead.
There's a fair few
Show of Hands
fans present due to the fact that tickets for their flooded out Abbotsbury gig are valid here. They open with Roots, and everyone joins right in. Wickham being more mainstream in attitude than the folk festivals they usually play, the singing along isn't quite as intricate as they are probably accustomed to hearing. It's late in the day, it's been sunny, and the festival bars have been doing a roaring trade. The result is a bunch of pissed British people in a field, intent on having a whale of a time. Show of Hands deliver a storming set, complete with audience participation straight out of the 'sing something different from the person next to you' school of harmony. I've seen many folkies reduced to tears by Cousin Jack. They'd definitely be crying tonight. A real blast.
It's a tough act for
Bellowhead
to follow, and they begin their mood building brilliance with the dark Jacques Brel number Amsterdam, before Whiskey is the Life of Man gets the boingy bouncing going. Many in the crowd are new to Bellowhead, but armed with their impressive back catalogue, in addition to some new songs from their forthcoming 'Broadsides' album, they set about winning hearts and minds. There's a beautiful 'Clap your hands for Swindon' moment, some fine rock-star fiddling during Haul Away, an all star dancing horn section and Benji doing his thing on top of the PA. Bellowhead are brilliant as ever.
Old Man Luedecke
is my festival find when he opens the main stage on Sunday. He's ace, and deserves to be higher up the bill where more folks would see him. He's followed by Session A9 and a slick set from
Dervish
. On one level, it seems slightly sacrilegious that these three class acts are below
The Wurzels
on the bill. That said, with their seventy nine year old drummer and a job lot of jokes they seem to have bought cheap from the retiring Yetties, Somerset's finest draw and entertain a sizable crowd, before the business end of Sunday draws nigh.
With a classic
Oysterband
set as support, and Lady Maisery's Hannah James on accordion,
Levellers
can't really fail in their headlining slot. Their set is a vibrant mix of old and new, so singalong wise there's something for everyone. It's a finale which sums up the energetic, party spirit of the festival itself; an atmosphere that only three days of stomping, slurping, sun-in-the-sky festivalling can produce. Wickham is aiming high and is going from strength to strength, and I for one can't wait to see what awaits us next year.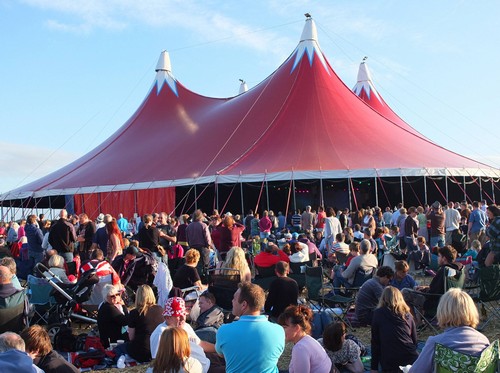 review by: James Creaser
photos by: Ian Wright
Latest On This Festival
Wickham Festival 2024
festival details
last updated: Tue 29th Aug 2023
Wickham Festival 2023
festival details
last updated: Thu 3rd Aug 2023
Wickham Festival 2023
line-ups & rumours
last updated: Thu 3rd Aug 2023
Saw Doctors, Show of Hands & more for Wickham 2023
last updated: Mon 27th Feb 2023
Wickham Festival
festival home page
last updated: Mon 30th Jan 2023