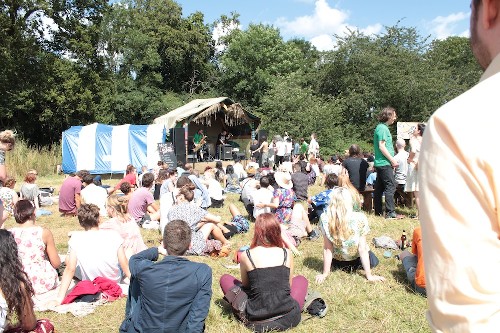 Supernormal Festival

2014
Friday 8th to Sunday 10th August 2014
Braziers Park School of Integrative Social Research, Ipsden,

Wallingford

,

Oxfordshire

,

OX10 6AN

,

England
MAP
£80 for a weekend ticket - SOLD OUT
daily capacity: 1000
last updated: Fri 1st Aug 2014
Supernormal is probably the most audacious festival in the UK, putting onstage, in the field and in the woods nearby, 3-days of fearless experimental music and arts. If you know of any bolder festival: let me know where it is, because I don't want to miss it!
Getting to Supernormal by public transport is very convenient: train to Oxford or Reading and then less than half an hour bus drive either way. This keeps your carbon footprint low and makes you happy even before entering the festival field. The buses are very frequent and our bus driver was so nice that he didn't even charge us, for some reason. Once the bus has dropped you off you can have a lovely 15-20 minutes walk through fields and woods to get to the festival field.
The festival is located in the beautiful Braziers Park next to the mansion house that hosts the Braziers International Artist' workshop. The festival main field includes the Shed Stage, the Nest Stage, the Disco Bar, the beautiful and comfortable People's Palace Cinema tent, but also various activity tents. Along with workshop tents with activities for kids and adults, like face-painting, yoga, cyanotype etc., the soul of the festival was in the Shed Sound Space.
The Shed Sound Space revived the principles of futurist music through innovation and the use of pretty much anything to create sound. Here music was played, visualized through cymatics and recorded by the crew of ZamZamRec. Active participation of musicians and punters alike was also encouraged, and you had the opportunity to see your voice via cymatics/cymagick. Elements of situationism were presented by Graham Dunning and its music-by-the meter stand. H.U.M. (aka H Uiutna and Mark Wagner) unified their mystical vibrations in a powerful set labelled "La Vibrazione".
A little gem of the festival was also a secluded area in the woods with a barn and a granary where music was played and workshops were run. The barn hosted life drawing sessions, choir rehearsal and performances like the mesmerizing act by Hacker Farm.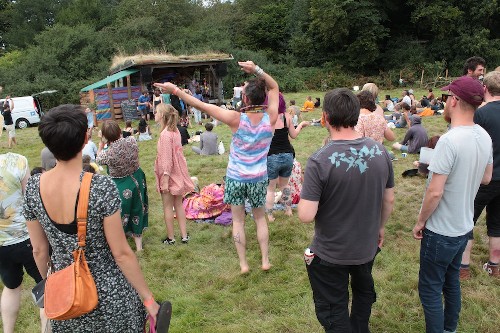 Supernormal offers fascinating music that does not reach the more commercial venues. Friday night exploded with Gnod, followed by Bong that gave us a taste of cosmic energy.
Saturday morning everything started again pretty early with the energetic performance of Luminous Bodies. Later on Unconscious Archives presented a show of audio-visual cut-ups called Sculpture, which included totally hypnotic improvised analogue animations. Every night there was also a tiny marquee offering some proper drum and bass, in case you needed to burn out some energy by jumping around.
On Sunday morning The Nest Stage suffered some technical problem and bands were rearranged over the Shed Stage and the Disco bar. Cindytalk fascinating poetry spellbound the last day.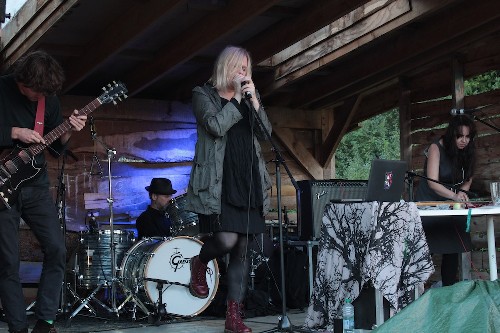 On Sunday night everything ended with the silent disco which really divided people; some people kind of enjoyed it, others really hated it. I belong to the second group; I'd rather have complete silence than the silent disco, if you ask my opinion.
The festival offered real ales, organic food, including hog roast and lamb roast cooked on slow fire for the whole day, but also interesting vegan and vegetarian options, especially at Souper Norman.The best coffee in terms of quality, price and style was definitely served at Will Cruickshank's Roof Terrace café. Will also offered the most beautiful showers I have ever seen. Open roof mobile showers made of wood with warm water heated by a wood burner; you could have a shower looking at the clouds in the sky, how about starting a day like that? Along the same line the compost toilets were quite nice too, you could sit on the loo overlooking the trees in the woods.
And I obviously cannot forget to talk about the weather: guess what? It was 3 days of unsettled weather with sunshine and showers, some heavy and thundery. The field didn't get too muddy, which is always a plus and the campfire was keeping us warm at night.
Supernormal was sold out this year, which is definitely a good sign, and in a way we wouldn't like to see Supernormal getting too big and possibly loose its intimate character. Supernormal is just the perfect size for a festival in our opinion: everywhere is very easy to reach, including your tent in the campsite, and creative interactions and collaborations between people are facilitated by its dimension and intimacy. We can only wish the best to Supernormal and hope it will get more and more innovative and revolutionary!
review by: Federica Pacifico and Lucia Maffei
photos by: Federica Pacifico
Latest On This Festival
Supernormal Festival
festival home page
last updated: Thu 1st Aug 2019
Supernormal Festival 2019
festival details
last updated: Mon 15th Jul 2019
Supernormal Festival 2019
line-ups & rumours
last updated: Thu 20th Jun 2019
Supernormal Festival 2017
festival details
last updated: Thu 3rd Aug 2017
Supernormal magic
Supernormal 2016 review
last updated: Mon 22nd Aug 2016