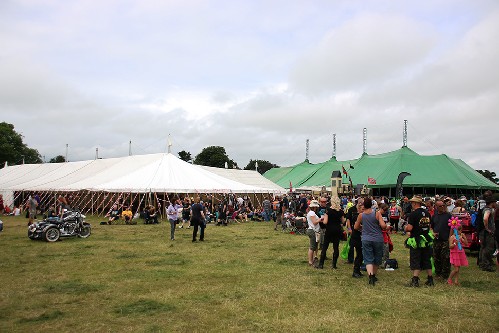 The Rock and Bike Fest

2016
Thursday 14th to Saturday 16th July 2016
Carnfield Hall,

Alfreton

,

Derbyshire

,

DE55 2BE

,

England
MAP
£40 for the weekend, children under 12 free (+ booking fee)
last updated: Tue 5th Jul 2016
Once again the rock and bike festival returned to Carnfield hall for another weekend of great music. This year the organisers had decided to keep the usual layout of the arena, which consists of two marquees close to each other. One is the main stage and the other is the second stage. This year renamed the Raggie stage as a tribute to Mark Slack aka Raggie James who used to be the vocalist for a tribute band called Box O Snakes.
In previous years it has been difficult to differentiate the two stages as they were in the same size and same colour marquee. This year they had separated the two stages by putting the main stage in a gigantic green and white marquee, and the second stage in the normal sized white marquee. The food stands and stalls were situated towards the back of the arena and around the side.
This year's line-up included Nazareth, Gun, Lawnmower Deth, Iron 2 Maiden, Rebel Rebel, Oliver Dawson Saxon, and many more.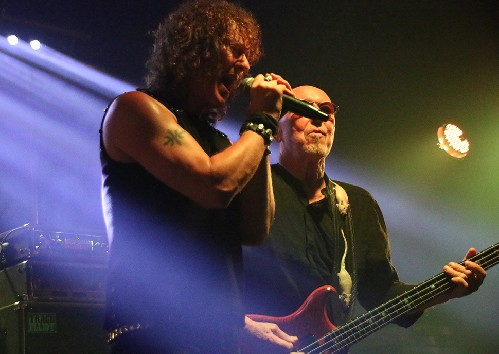 Rock and bike festival certainly can't compete with some of the big hitters on the festival circuit in terms of attracting current big bands. But that is what makes this festival so great to attend. From the moment you arrive, you feel as if it's one big happy family. And the organisers do their best to ensure its great value for money. Parking a mere £5 for a car, where as some of the bigger festivals charge £25 per day. Food and drinks are realistic prices and there is a laid back friendly atmosphere throughout the festival.
In terms of music, it was a weekend full of enjoyable rock music. But it's not only the music that makes this festival enjoyable, it's the fact that it is child friendly and there is plenty of things to keep them entertained… a western shootout, fancy dress competitions, bike and trike competition. Tattoo competition to name just a few of the things on offer.
Some of the highlights from this year's Rock and Bike festival include Lawnmower Deth bringing their musical wit with them and putting on a routine which put a smile on everyone's faces. Nazareth brought the drama to rock and bike festival due to suffering technical difficulties before even walking on stage. Running about 30 minutes behind schedule. The band decided to risk it and play through the issues. All was going well until the guitar stopped working. Most bands would have just walked off stage in a huff, however credit to the band they stayed on and played through it, despite being able to see the frustration in their faces. They were unable to complete their full set due to the late start but in their wisdom their decided to play "Love Hurts" so that the fans could at least get to hear one of their biggest hits.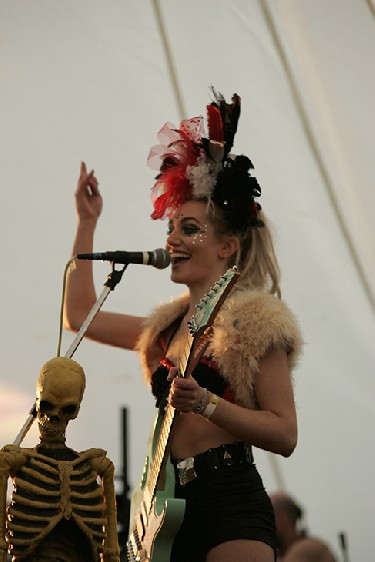 Gun were faultless with their set, if anything it just felt too slick and polished for my liking. However musically there is no denying this is a very talented band. This year the rock and bike festival had managed to book a relatively new band or rather one that is just trying to break into the English music scene. An act by the name of the The Soap Girls. Hailing from Cape Town (South Africa). There is currently no one quite like this band, they have a unique image and their music is rock infused with a large sprinkling of pop music. Millie (bass/vocals) belts out heavy laden bass riffs whilst Mie (guitar/vocals) infuses sweet melodic guitar parts to create a sound which is unique.
In-between songs the Soap Girls interact with the audience and pick people to get on stage and do daft things like drink an alcoholic drink out of a bottle, the alcohol is rumoured to be nearer the 100 percent mark. At one part of the show the Soap Girls managed to persuade a man to eat the eye ball out of a real fish. It made for interesting viewing, even if it was out of morbid curiosity. This will be one band to keep an eye on in the near future.
Oliver Dawson Saxon knew how to press all the right buttons to get the crowd rocking away. Even after all of these years Graham Oliver and Steve Dawson are mesmerising to watch on stage and you can't help but fall in love with their performance.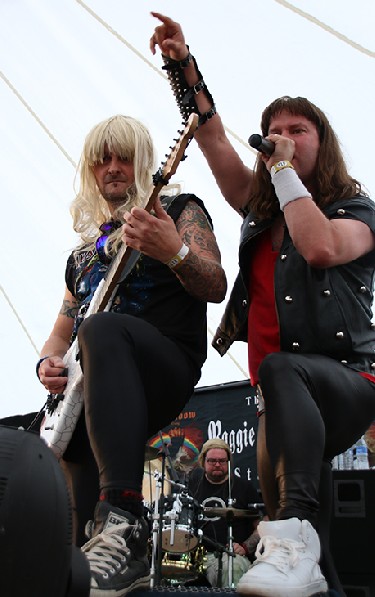 Other worthy bands that we caught included Iron 2 Maiden, which musically was thoroughly enjoyable. Covering Iron Maiden is an arduous task and these guys pulled it off with ease. They were even able to do a credible cover of 'Run to the Hills'.
Rebel Rebel was a tribute to David Bowie, bringing the magic and the power of Bowie's musical genius back to life for the rock and bike festival crowd.
This is one festival where you get the feeling that the organisers work hard to keep it as friendly as humanly possible and for me this festival has something that very few other festivals have. It has soul and passion in bucket loads.
This is one festival that people keep coming back to year after year regardless of the line-up. Hopefully the organisers won't alter their winning formula for keeping fans of rock music attending year after year. A gleaming jewel in the festival calendar.
review by: Luke Seagrave
photos by: Luke Seagrave
Latest On This Festival
Rock & Bike Festival 2023 - The Review
You would be hard pushed to find better value for a festival
last updated: Fri 28th Jul 2023
The Rock and Bike Fest 2023
photo galleries
last updated: Fri 28th Jul 2023
Last Chance To Purchase Tickets For Rock And Bike Fest 2023
The festival is at a new location this year
last updated: Wed 21st Jun 2023
The Rock and Bike Fest 2023
festival details
last updated: Wed 21st Jun 2023
The Rock & Bike Fest
festival home page
last updated: Thu 9th Feb 2023