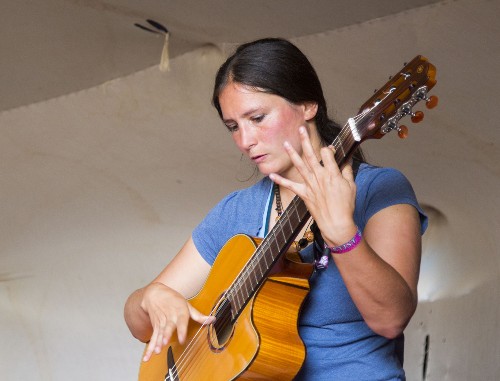 Meadows in the Mountains

2015
Friday 12th to Sunday 14th June 2015
Polkovnik Serafimovo, 4794 Smolian,

Smolyan

,

Oblast Smolyan

,

Bulgaria
MAP
£150 weekend with camping
daily capacity: 2000
last updated: Tue 14th Apr 2015
eFestivals spoke to De fuego ahead of their appearance at Bulgaria's Meadows in the Mountains, which takes place for a 5th year in the village of Smolyan, in the Rhodope mountains just south of the capital, Sofia near the Greek border from Friday 12th until Sunday 14th June 2015.
Tell us a bit about your background, how did De fuego start?
De fuego started about four years ago, when I asked a friend of mine to play as a support before his gig (a band called the Magic Tombolinos). The guitarist of that band came to talk with me after the gig and asked if we could do a project together as he was looking for something smaller next to his five-piece band. Back then we never thought we would become as popular as we did, his name was Davide Lufrano Chaves - such a talented guitarist!
We tried playing together few days later and it worked perfectly from the very first moment, despite the fact Davide and I came from different backgrounds. I am Hungarian and a self-taught guitarist, and he was half Italian half Costa Rican, and studied music in the Conservatory.
Davide became my partner in music, my best friend and somehow one of the most important people in my life. So it was very hard for me when he passed away about a year ago. He lost his battle with Multiple Myeloma, which is a type of blood cancer. He was very young, and so talented, one of the best guitarist in London, if not in the UK and beyond in my opinion! At this difficult point I needed to think, so I took some time out and walked the Camino de Santiago (a famous 800km walk in Spain). During this break I decided that this music made me so happy, so I had to carry on with it.
I played for a while with another very talented guitarist called Freddy Morgan, but our paths were not meant to be together. Since last August I've been playing with a Spanish guitarist called Mark Rodriguez who is really amazing, and we have a great chemistry so De fuego is working very well again. We are now in the studio after a successful Kickstarter campaign, to record the second album of De fuego called Davide.
Who are your biggest musical influences growing up until now?

I wanted to study Flamenco when I heard Paco de Lucia playing, so I'd say he is one of the biggest musical influences for me. I also listened a lot to Rodrigo y Gabriela and other well-known Flamenco guitarists as well. Mark is coming from a rock background but he plays with a jazz and Latin influence.
How would you describe your style?
I always say it's fast instrumental Spanish guitar, although it is hard to describe it properly! There are many influences involved in our music, which makes it kind of unique.
Tell us about Bluebird. What's the inspiration behind this album?
I'm really proud of that album, it's the very first album I made and I think it's the same for Davide too. We recorded it in Hungary (after playing Sziget festival) with only two days recording sessions in the studio - and it sounds amazing! Most of the songs are written by me and every song has a different story or inspiration behind it. The name Bluebird came from a guy I never met in person. We exchanged several emails on Youtube and he was an American Indian, he always had the best names for my songs!
Any favourite tracks, and why?
I don't really have a favourite track on the album, every song is different, and has a different feel. I like all of them for different reasons. For example I like The Empty (written by Davide) because of the metal influence and the percussion parts, but I also love the feeling of the Journey, because it really brings you to a state of mind of travelling somewhere; you're on the road looking out of the window while the houses are passing by.
What are your plans for a second album?
Just today we had one recording session! This was the second time we went to the studio, we need to do two more songs and should be ready with the full album. It will have nine songs, eight of them original compositions and one will be a jazz standard Caravan, which I really love because of the harmonic minor scale and gypsy feel. And of course there is a lot of other work we have to do for the album; mixing, mastering, CD cover, duplication, organising the CD launch, finding a publicist. If you're not hugely famous you have to do everything by yourself! But I feel like I know a lot about the industry because of this reason. Of course it's a lot of fun doing it all and I really cannot wait for it to be ready.
It's nearly festival season again (hurrah!) What's been your favourite festival to date and why?
I do not really have a favourite festival as every one is different, and I like them for different reasons. That said I really like travelling with the Small World stage, it feels like a family to me as we have been travelling with them for few years now. And the bands that they book! They are so amazing, all of them have so many accomplished musicians and amazing stage presence, so people really go mental and dance like crazy when they are around the stage. I am really happy that they included us again this year amongst their bands.
I saw you play at Glastonbury and Secret Garden Party, both times you had a beaming smile on your face, but played with such fire and intensity. What do you feel when you play live to an audience?
It is a really incredible feeling. I love performing on stage and sharing my music! Especially because I perform original music, and I know that I've created something that makes people happy, makes them dance, and have a good time. Nothing can replace that, that's probably why I look so happy on the stage.
Are there any festivals you haven't yet played at but want to, and why?
I really want to play in Boomtown, I've heard so many positive things about that festival but never actually managed to play there. It would be really amazing. Also it would be nice to play more European or even overseas events, as we love travelling and I want to experience how it is to play at other international festivals.
How did you find out about Meadows in the Mountains, and what made you want to play there?
I actually found that festival through your website! I later discovered that a lot of my friends and also some of my housemates are going. I've never been to Bulgaria and always wanted to go, and the festival site looks very magical, like a fairy tale! So I'm really looking forward to playing at this one, I also know and played with some of the bands they booked so it should be a lot of fun!
What other artists are you looking forward to seeing play there?
The Turbans are playing there! We played on the same stage several times and I really like their music, the guitarist is very accomplished and can basically play everything. I am really looking forward to see them there.
What can you tell people to expect who might be coming to see you at the festival?

They can expect the unexpected, and an unforgettable experience!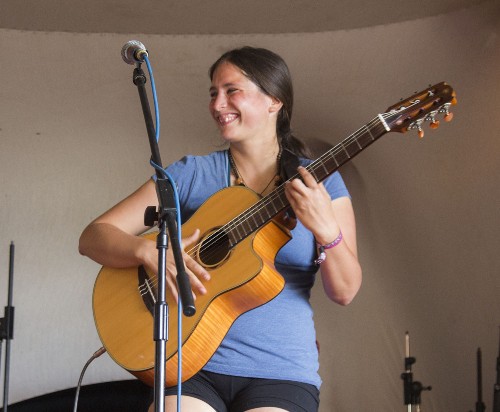 De Fuego are one of 48 acts on the bill in Bulgaria including Al Dobson Jr, Binh, Jane Fitz, Kele Le Roc (Love Is The Law), Mo Kolours (Live), Mop Mop Feat. Wayne Snow, Quantic, The Turbans, Wyles & Simpson, Albrecht Wassersleben, Andrea Muller, Andrew James Gustav, Ashleigh Ashley (Love Is The Law), Brand New Wayo, Beat Pete, Bruno Schmidt, Chaz Thorogood, Dead Echo, Demob Happy, Dione Reid (Love Is The Law), DNR Vinyl, Ed Word, Garo, Gus Harvey, Jack Tyson Charles, Jan Mir, Jo III, JVBD, Le Jorge, Lion Club, Lucie Zara, Marine, Maxi Storrs, Miro, Moglebaum, Nerobambola, Mr Margaret Scratcher, Rachel D'Arc, Strangelove, Subculture Sage, and Summer Pearl (Love Is The Law).
Tickets are priced at £150.
Meadows In The Mountains offer a chance to try activities include Horse & cart taxis, mountain zip line, downhill grass bobsleighing, death slide, horse riding, waterfalls, mountain walking, thermal spring, hammocks, and sample local village life and locally sourced food.
interview by: Carrie Tang
Latest On This Festival
Meadows in the Mountains 2016
festival details
last updated: Wed 18th May 2016
Meadows in the Mountains
festival home page
last updated: Wed 18th Nov 2015
Meadows in the Mountains shines in the wild
Meadows in the Mountains 2015 review
last updated: Wed 1st Jul 2015
Meadows in the Mountains 2015
photo galleries
last updated: Tue 30th Jun 2015
De fuego's Edina talks bringing fast flamenco to festivals
Meadows in the Mountains 2015 interview
last updated: Wed 6th May 2015