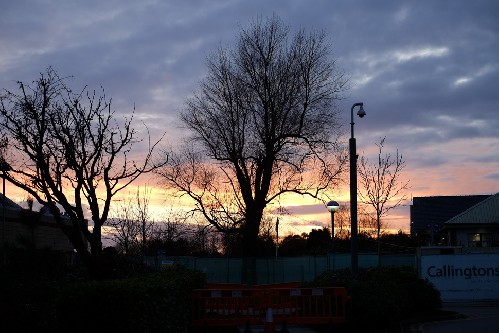 HRH Prog VI

2017
Thursday 16th to Sunday 19th November 2017
Camp HRH,

Pwllheli

,

Gwynedd

,

LL53 6HJ

,

Wales
MAP
from £123.13 (based on 8 people sharing)
daily capacity: 6000
last updated: Fri 29th Sep 2017
Time flies. It doesn't feel like a year since we were last here. But that was HRH Prog V and this is HRH Prog VI, and Roman numerals don't lie. As ever, it's a beautiful drive through the Snowdonia National Park to approach the site, late autumn, the leaves on the oak trees are brown, the birches are bright yellow in the sunshine, and the beeches are glorious bronze. It's a wonderful location, on the south-facing coast of North Wales, between the seaside towns of Pwllheli and Criccieth. Some of the roads could be better maintained. If you have the misfortune to hit a Welsh pothole and damage a spring in the suspension of your car, take it to the garage called OH Griffiths at Y Ffor. Carl will fix it for you. And if you forget that you were supposed to bring your own toilet rolls and towels, just pop down to Asda in Pwllheli.
The festival runs from Thursday to Saturday, with nothing on at all on Sunday. It works well – with festivals running over the conventional weekend there's a tendency for people to drift away on the Sunday night, with dark thoughts of work on Monday. That can mean that the last night of the festival is a bit of an anti-climax. This way that doesn't apply, so the last day of the festival feels more appropriately climactic.
Music festivals at holiday camps in the off-season work so well. They bring the punters in and keep the staff employed, there's shelter from the elements, you don't have to camp, the accommodation is clean and tidy and well-provided, and, at this place at least, the sound is first class. There are two venues, recently re-named Arena 1 and Arena 2, and they're only a few yards apart, making it easy to nip from one to the other so as to see at least parts of the sets of bands when there's a clash. Arena 1 is much bigger. On Thursday there are no bands playing at Arena 2 but, unlike last year, the building is open and you can have a quiet drink at the bar before the festivities start. You can even sit in the VIP area, the security guards have yet to take up their positions.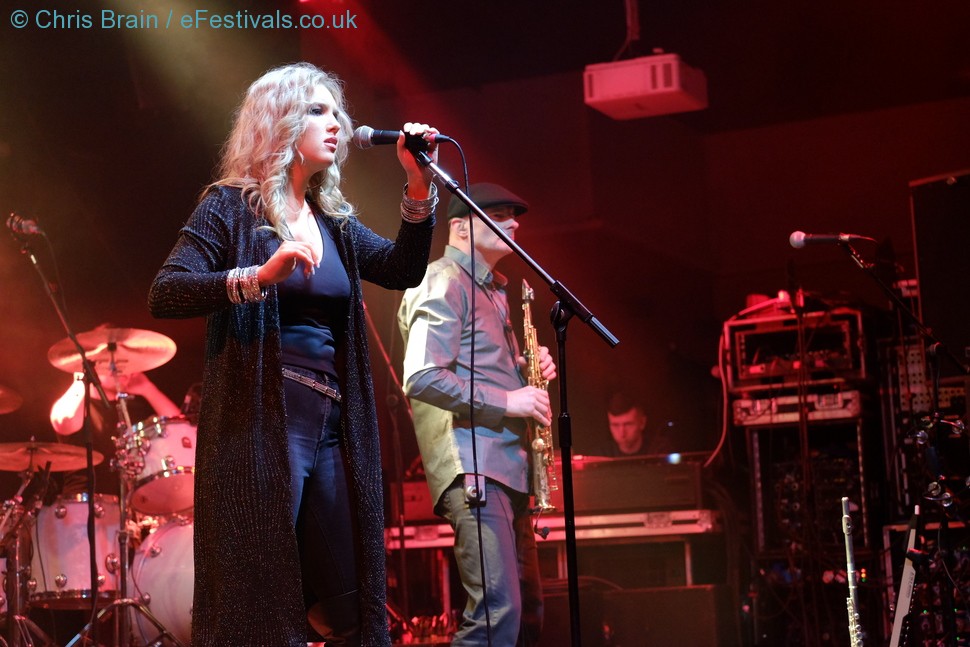 First on at Arena 1 are IO Earth. Is it a number? Is it letters? The front man answers the question straight away. "Hello people! We're Eye Oh Earth!" They're from Birmingham, and they have a very pretty young female singer, who keeps the photographers busy in the pit. They're a seven-piece, with a heavy-metal violinist, complete with chains, tattoos and a beanie hat; alto sax, clarinet, flute, keyboard, guitars and bass. They're clearly very excited to be here. The front-man says he's phoned in sick to work, so no photos, please. (But surely he must realise the photographers aren't interested in him, they're interested in his lady colleague.) It's seven o'clock, and people are arriving, so the audience swells as they get through their set. They're a bit Lord of the Rings and a bit eastern, with fragile, slightly hesitant vocals. They finish on a crescendo with a song called Insomnia, and then turn their backs on the audience and put their arms round each other for a group photo. They've loved it! It will become a theme of the weekend how much bands love playing here.
Also on Thursday at Arena 1, are another seven-piece with a good-looking young female singer, the seasonally-appropriate Mostly Autumn. They also have a female keyboard player, and a male one. The double keyboard gives an orchestral sound, and there are some sweet vocal harmonies, and Olivia's lead vocals are melodic and assured. She has a lovely voice.
There are no pretty young girls in Krankschaft, they're a trio of old guys. From the name, you might have expected them to sound something like Kraftwerk, but you'd've been wrong. They have come from from 1974, and they play driving riffs, with the odd dreamy diversions, to dancing fans. It's space-rock. The guitarist/vocalist wears a space boiler suit, and they sing about interstellar highways, binary stars and the great precession. (The great precession is the slow change in the orientation of the earth, over a cycle of approximately 2600 years, as a result of gravitational forces from the sun and the moon creating a torque on its axis. But you knew that.) The lyrics are not exactly high poetry ("The world is such a big place/Until you've seen it from outer space"). The party's started. We can feel the hum.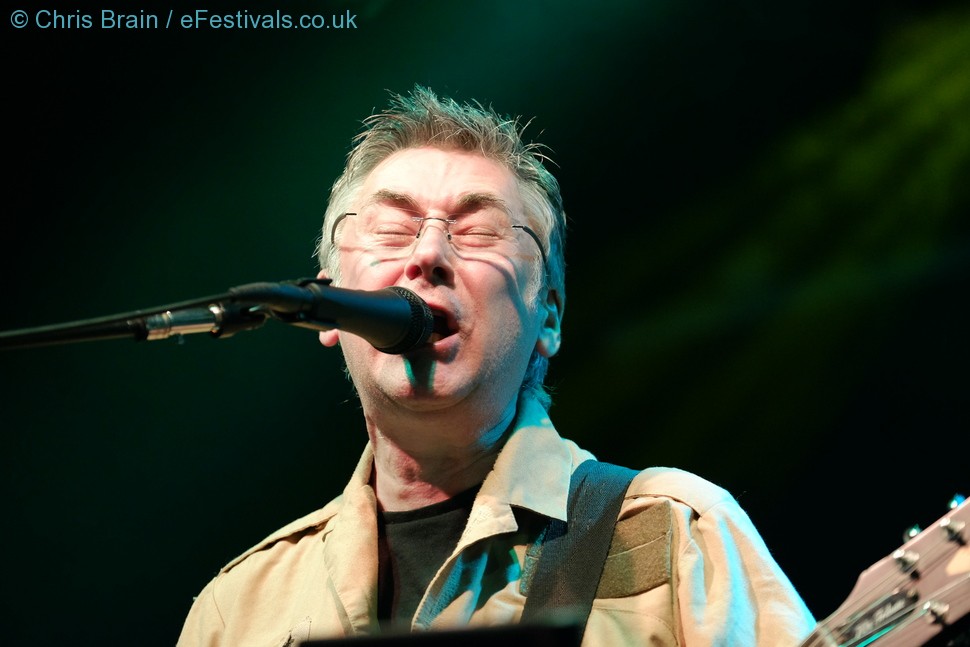 Everybody's happy to be here, and they're all nice people. A good number of them are surprisingly young, with their own hair, and there are plenty of women, who don't look as if they've been dragged here by their boyfriends. The staff are great – the people behind desks are friendly and efficient, the security are friendly and low-key, and the bar staff are friendly and quick. Beer is from £4 a pint, in a plastic glass. In fact the no-glass-plastic-only policy spreads all the way to the restaurant in the Mash and Barrel pub on the other side of the lake. If you have a nice bottle of Rioja with your beautifully tender steak, tasty burger or nicely-presented vegetarian platter, they pour it from the bottle into plastic pint glasses for you then to pour out into your own smaller plastic glasses. The food is good. There are Papa John's pizzas; fish and chips are by Cook's of Pwllheli, a proper fish and chip shop, and not just a franchise in a complex. The staff are friendly and chatty, the fish is fresh, the batter is crisp, the chips are real potato, and the mushy peas would delight the most discerning mushy pea connoisseur. Beware of queues building up between headliners in the evening.
The first band on at Arena 2, on Saturday, are Kyros. They are young lads, and they look the part, the bass player in particular, he's thin, with long black hair and a beard, long fingers, good looking. The keyboard player, guitarist and bass player all sing, and they harmonise well. They do a song called "The Lamb, The Badger and The Bee", which sounds as Genesis as its title suggests, and they do it well. Then they go slower, with a Tubular Bells riff, and then they go dissonant and mess around with time signatures and morph into Van Der Graaf Generator. This is good! They grow into the set, rythmn section, keyboard, guitar, really tight, and quite bulbous. There's a big name on at Arena 1, but very few people leave. This is what we're here for!
Third Quadrant are also on at Arena 2. They're old guys, and they're enthusiastic, and they make sure we know how much they love it here. They have computer-generated sound effects with voice-overs and bubbly underwater sounds. They have bass with more than a touch of Norman Watt-Roy, and crashing keyboards, two of them. It's not always easy using computers, particularly when you're getting on a bit, and they have to stop and re-boot. But they sort it out. Technology, eh? They have a big sound, at times with a hint of Yes. And then there's a song with the refrain, I am the star, the dead star, I am the star, which is pure David Bowie.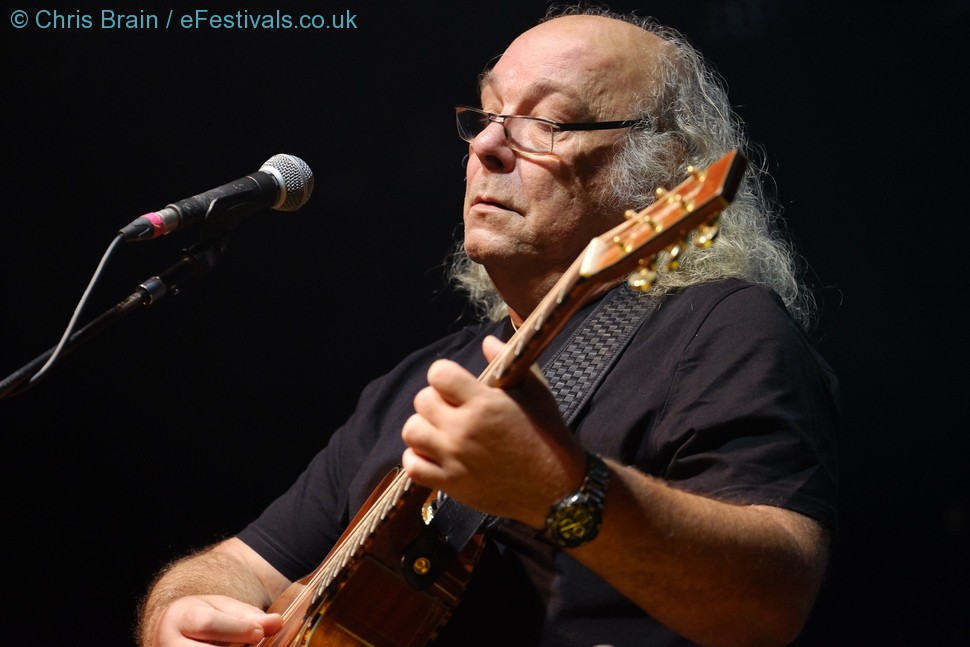 Edgar Broughton is from Warwickshire and he likes fishing, he tells us. He's now 70 years old, balding but with long white hair. He plays Arena 1 on Friday afternoon, on his own, on a stool, with an acoustic guitar. This is Edgar Broughton, not The Edgar Broughton Band. He's a singer-songwriter of folk songs, slow and gentle, sometimes falsetto, and with every word crystal clear. He tells stories, too. There's one about him writing a complete song in a few minutes, and then not being able to remember it for months, until he remembered it all by recreating the situation he was in before. He's the Exterminating Angel of song-writing. The sound of his guitar and his voice are somewhat reminiscent of John Martyn. He's political, but in a personal way. Not so much of the Out, Demons, Out, but there are affecting songs about the state of England and tolerance towards others. "Would you give me your assistance if you didn't know my name?" he asks, and says "I would do anything with love." We need more people like him.
The Heather Findlay Band follow Edgar at Arena 1. Heather used to sing with Mostly Autumn, and they play one of their songs, "Original Sin". She has an excellent voice. The band have a pastoral sound, with harmonies from a female backing singer who also plays harp, recorder and keyboard. It's a bit soft rock, a bit Fleetwood Mac, but they deliver it well.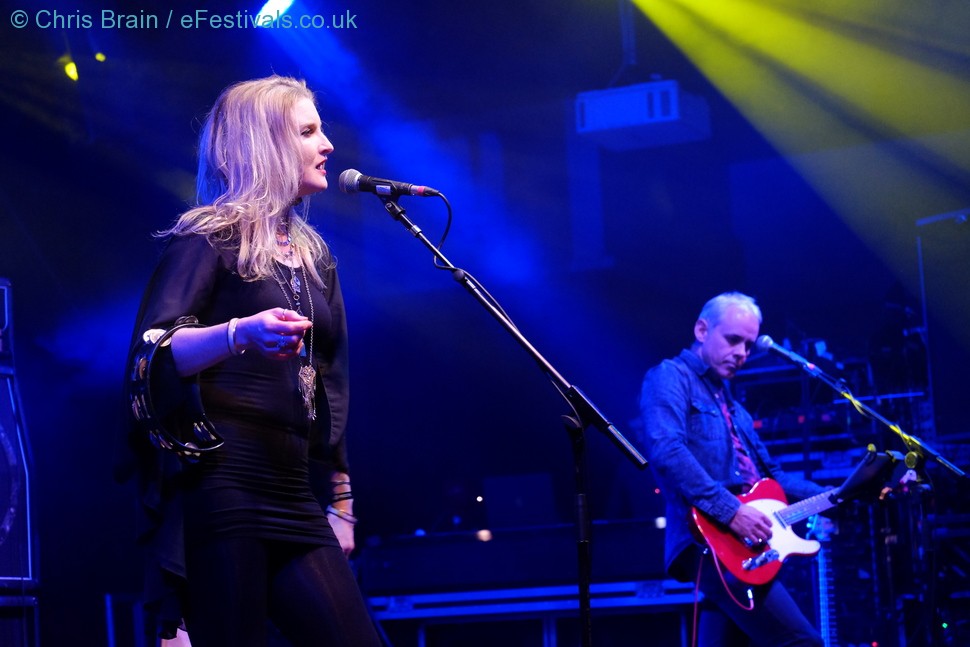 If you're in Arena 1 it's likely you'll have to stand. There are seats towards the back, and tables, and taller stools behind them, but they're monopolised by people who make sure they arrive early and then don't budge for the rest of the day. And they reserve and defend seats for their friends. It's not unusual for these holiday camp festivals, but it does get tiring, in both senses. There are also chairs and tables right and left, but they're reserved for people who've paid extra for tickets called VIP or Royalty, and you can't get into the compound without showing a special lanyard to the security guard at the entrance. But the VIPs and Royalty seem to cling onto their seats just as vigorously as the ordinary punters.
Apparently you get discount on HRH merchandise if you have a VIP ticket, and there's lots of merch to be had, both HRH and otherwise. There are T-shirts and other stuff next to reception, a large array of CDs, all in alphabetical order at the side of Arena 2, and a fairly substantial market of mainly heavy metal paraphernalia, and including tarot readings, at the back of Arena 2.
Days are short. Arena 2 has a glass roof, so there's an awareness of the daylight, but Arena 1 is permanent night. L'Anima play Arena 2 just as it's getting dark on Friday. They are a bit Black Sabbath, they go loud, quiet, loud again, but mostly loud. They have a heavy sound and the singer has a good voice.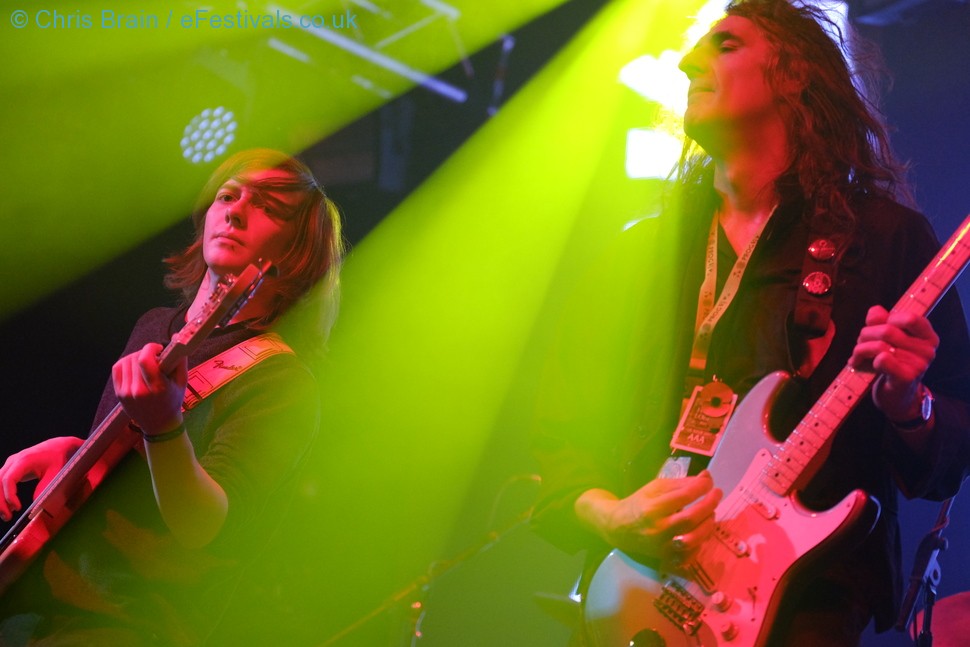 The Hawklords take to the stage ten minutes late at Arena 1 on Friday. This is most unusual. The whole festival is extremely well organised, the schedule is kept to, and turnaround times are minimal. (Set times are also generous – minimum one hour, maximum almost two hours.) They open with the words, "if you're ready, we'll begin." And they do. There's a top class light show behind the bands at Arena 1, and the spaciness of it works perfectly for these space warriors. Rocking space-music. They're having a great time and we're having a great time. At the front of the stage the guitarist, bassist and keyboardist look like Alice Cooper, Steve Marriot and James May. Harvey Bainbridge, on keyboards, is a bass player. One of the outstanding things about this festival has been the quality of the bass playing, but this bass player, in the middle of the stage, wins the prize. Tom Ashurst is the best bass player, with the best moves, the best hair and he's the best looking. The band don't have much in the lyrics department, but really that doesn't matter. In fact it's probably an advantage with the driving repetition of the music. Excellent!
After Hawklords on the main stage are Caravan, so heavy space rock is followed by English folksy whimsy. It could be tricky. But they've got a big, appreciative crowd, and they make a good start with "If I Could Do It All Over Again I'd Do It All Over You", from the "In The Land Of Grey And Pink" album. It's important at a festival to make a good start with a strong song. They have violin, flute and penny whistle, and at one point washboard and spoons, and they also play "Golf Girl" and "Love To Love You". But they're let down by Pye Hastings' vocals. His voice is too deep, slightly cracked and not precise enough. He seems to be concentrating more on his guitar playing and not paying enough attention to his singing, and quite often he doesn't even finish the line. His accent isn't English enough. He might be Scots, but he sounds too American.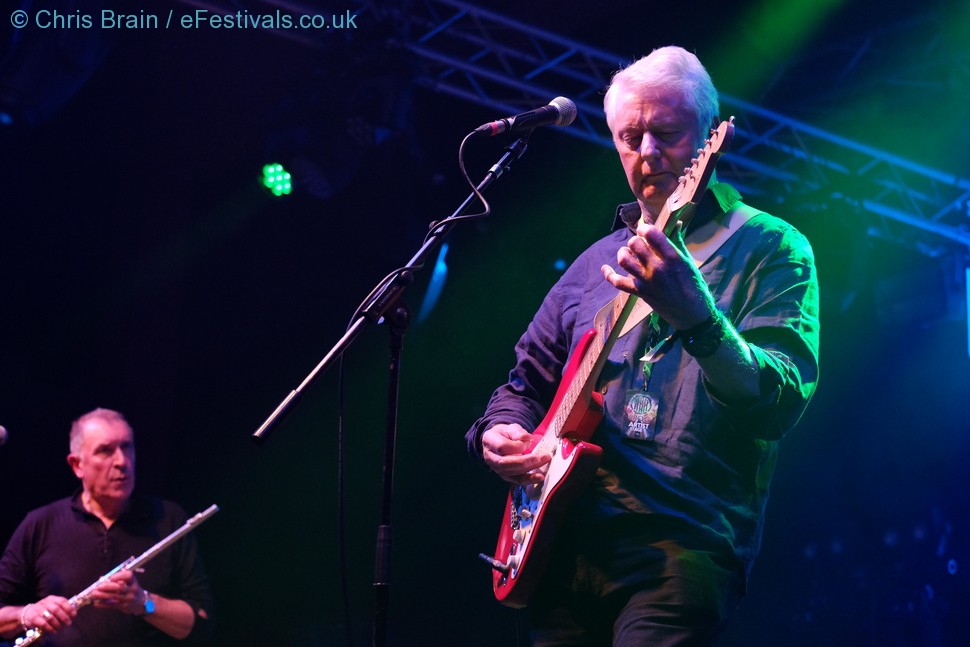 Over at Arena 2 there's Sonic Tapestry (who refer to themselves as Tap). The smaller stage is more relaxed. Expectations might be lower, but they're consistently exceeded. Band and audience are having a great time. They're from the north. They have a child prodigy on keyboards who, somewhat predictably, turns out to be the drummer's son. They can do funk, too. And they have a big finish.
And next on are the David Cross Band. They were here last year and they were fantastic. So expectations are high, then. The main men are David Cross, obviously, ex King Crimson, and David Jackson, ex Van Der Graaf. David Cross tells us that after last time they begged to be allowed to come back. As they come on stage an announcement says they both have beards and they both wear funny hats, so you can't tell them apart. But the vocalist has a funnier hat. It's a top hat, with goggles wrapped round it. He looks a bit steam punk. Jackson (or should it be Jaxon?) is on double sax from the start, but he also does keys and a strange woodwind instrument that sounds a bit like a didgeridoo. The music of the DCB is not to be analysed, or even described. It's to be allowed into your brain, via your stomach, like a crow. It's a bit like jazz, but good. They do Starless and Bible Black from the 1974 KC album of the same name, and finish with 21st Century Schizoid Man as a singalong. Sadly, A Plague of Lighthouse Keepers doesn't feature. Well done chaps, it's been a great pleasure.
Another band that do 21st Century Schizoid Man are Carl Palmer's ELP Legacy. There can't be many festivals where you get two versions of that song. The band has a guitarist and bass player but, strangely, no keyboard. They also play "America" and "Fanfare for the Common Man", and there is a predictably spectacular drum solo. Theatrical.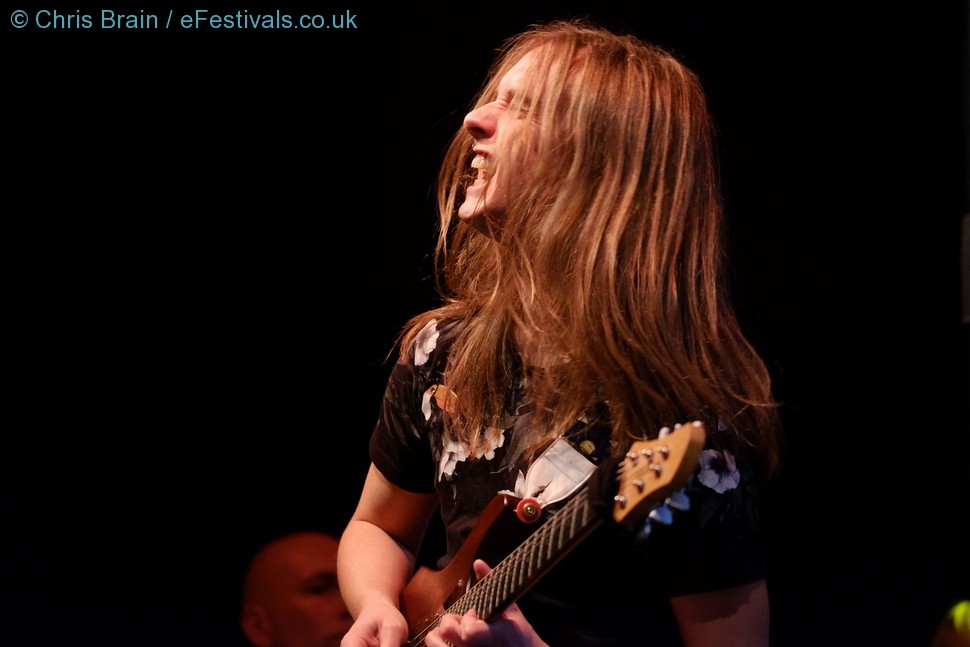 It's packed for Uriah Heap on Friday night. So much so that the security people (who haven't had much to do up to now) have instigated a one-way system, so that you have to enter the venue via the back of the fish and chip shop, and then you can't get very far.
Outside, in the very small gap between Arena 1 and Arena 2, there's a bar, serving smokers. You've got to say that's a pretty generous service for the outcasts and pariahs of our times. And for the bar staff, it must be one of the worst jobs in the whole camp. It's freezing.
This is a Haven holiday camp. The accommodation is relatively basic but functional, clean and tidy, and the grounds are well laid out and well maintained. There are lots of trees, including big, mature trees and shrubs. There is a sizable duck pond with ducks, swans, and a heron catching and eating fish. There's a sign post saying Beach Walk. Follow it, along a slightly muddy path beside a more natural pond with goat willow and bracken, and you reach the beach. The beach is sandy and rocky, and in both directions, to your left and right, runs the Wales Coast Path. It's peaceful and atmospheric and really quiet. The only sounds to be heard are the friendly good mornings of other fuzzy-headed music fans. The path goes all the way round the coast of Wales, so you can walk as far as you like, or as far as you've got time before your must-see band comes on. Shoes and jeans get muddy but it doesn't matter, it's not a fashion parade. It really is a beautiful location. The weather is decent, though cold, and the mountains of Snowdonia sparkle in the sunshine. It makes you feel almost glad to be alive.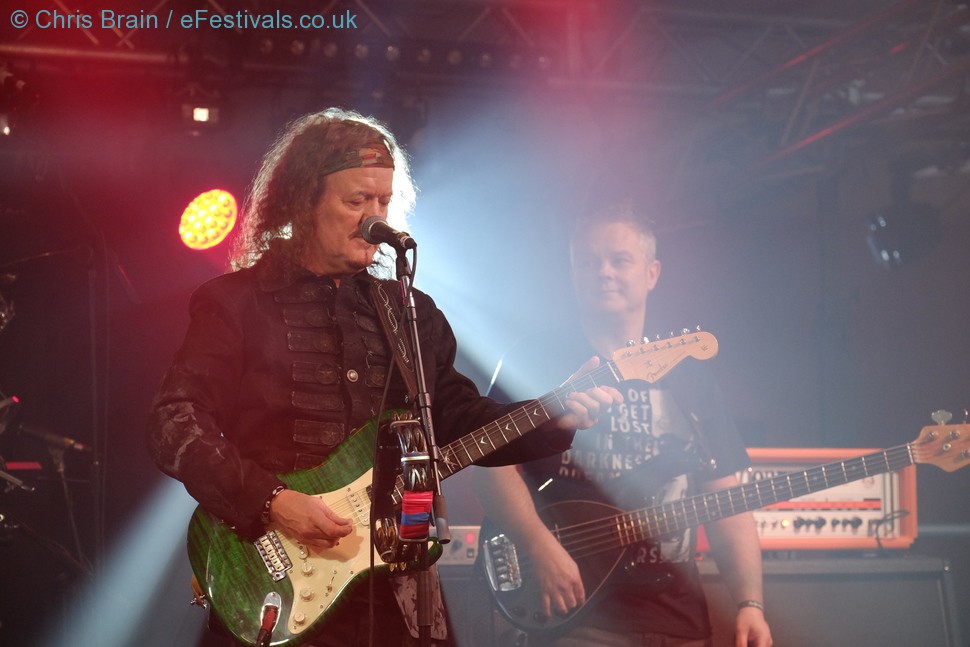 First on at Arena 2 on Saturday are a Welsh band, Multistory. They're old rockers, with a Gibson/Fender guitar partnership, a singer who sounds a bit like Roger Daltrey, and a keyboard player who looks, plays and acts like Rick Wakeman. He makes Theremin sounds, and we have various effects. There is a hint of Marillion. At one point the guitarist says to the keyboard player "stop enjoying yourself, this is serious." The bands love this venue. The last song sounds a bit like The Who. No, it sounds a lot like The Who. The guitarist does Pete Townsend windmills. There's a decent crowd for so early in the day.
Next on are The Tirith. This is proper Lord of the Rings stuff, though they don't look like hobbits, they look like middle-managers. They sing about the daughter of the water with the mystic beauty who took her own life, and the Sphinx, which greets the equinox, and lots of princesses. But they do build up their sound, and by the end they're a bit Pink Floyd.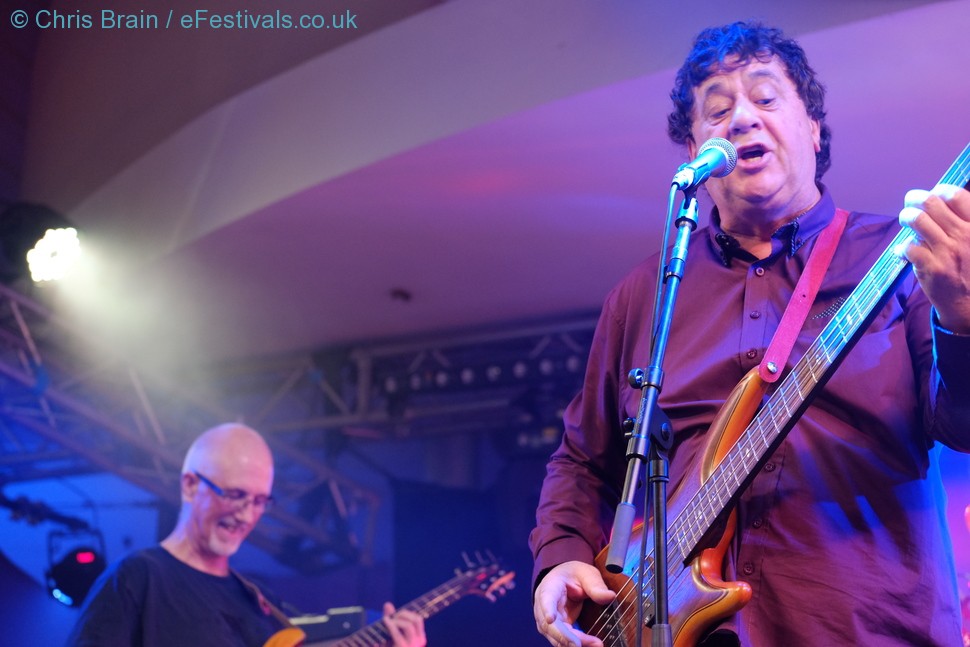 Touchstone are billed to appear early at Arena 1, but they can't make it. We're told that one of the band members has had an accident and broken an arm. This is a disappointment, but the replacements were good. More later.
The Fierce and the Dead play Arena 2 and, yet again, they're having a great time. There really is something about this venue. The band are bassy, thumping, chest-vibrating, instrumental. They dedicate their last number to DikMik of Hawkwind, who died on Thursday, and Malcolm Young of AC/DC, who died today. There are too many dead people, but thankfully few fierce ones – around here at least. (Hawklords also paid tribute to DikMik.)
Focus take to the stage soon after six on Saturday. Thijs van Leer was in the Mash and Barrel eating steak and chips not half an hour before. That's another thing about this festival, you see band members wandering around the site all the time, and enjoying each other's music. There's a big crowd, and they're hushed. Right from the first bar of the slow opening number, it's the Focus sound. Thijs is wearing an Old Grey Whistle Test T-shirt. The people who have paid extra in the VIP enclosure on the left hand side can't see this because he's behind his keyboard to the left of the stage and he's completely hidden from them by a bank of speakers. Of course they don't move. Thijs sings along to his keys and stands up to play his flute. The crowd are really behind them, there is clapping along, call-and-response scat, and whooping and cheering for the drum solo. (Don't do it, it only encourages them.) "House of the King", "Hocus Pocus", "Sylvia", "Focus 2" – we get all the hits. It's a great show and he's on top form.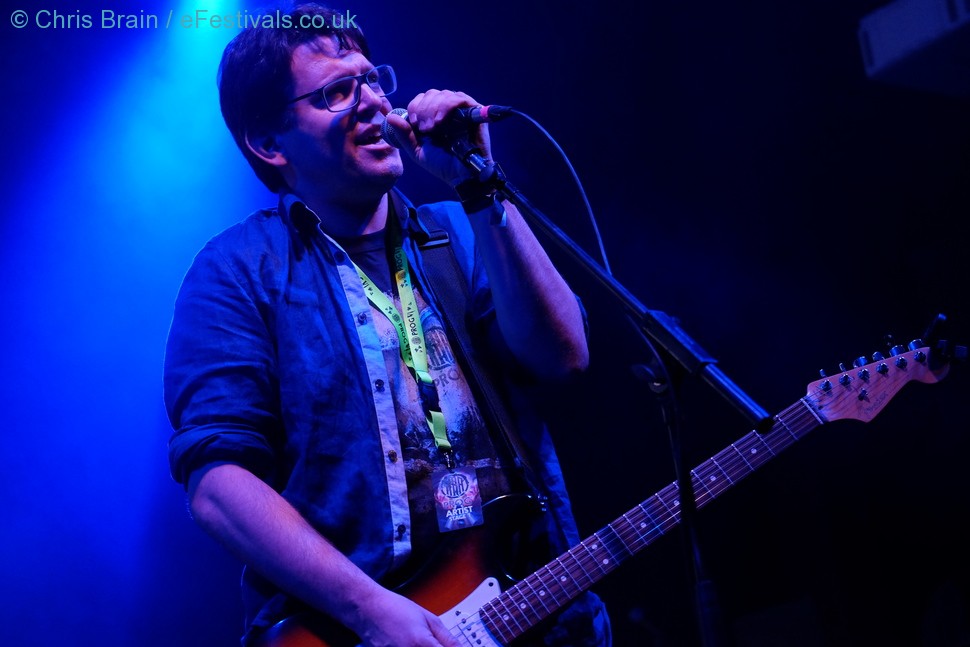 Have you heard of a band called Hats Off Gentlemen It's Adequate? Thought not. They are the band called in at the last minute to replace Touchstone and they play Arena 1 on Saturday afternoon. They tell us they're not even the full band, they're two fifths of the band, plus a drum machine. And they're highly honoured to be there, supporting Carl Palmer. Some people leave as they realise it's not the band they've come to see, but most stay, and almost all the people with seats stay. It's a guitarist and a bass player who also plays keyboard. He wears a black glove to play bass, which looks cool, and he's bloody good, reminiscent of Jah Wobble. Their first song is "My Clockwork Heart". It's original, refreshing, heartfelt. Other songs include "We're All Alone Together", "I'm A Head In A Jar", and "We Fight Back". Sometimes they sound something like the Sleaford Mods, but other times much softer, like Lyndon Morgan from Songdog. One of the songs has a recorded track that features the voices of the guitarist's kids. He doesn't look old enough to have kids. They love it and we love it. Original songs, well delivered, style, stage charm, a great voice and great bass playing. Bloody marvellous. The highlight of the weekend.
Things we have learned from this festival:
Great things can happen when your expectations aren't particularly high.
The more the band loves it the more the audience love it.
Now is a good time for bass players.
To be an artist, first you have to be a craftsman. Musicianship is important.
This is the best way to brighten up the dullest month of the year.
review by: Paul Champion
photos by: Chris Brain
Latest On This Festival
HRH Metal 4 2020
festival details
last updated: Thu 16th Jan 2020
HRH Metal 4 2020
line-ups & rumours
last updated: Thu 16th Jan 2020
Hard Rock Hell
festival home page
last updated: Thu 2nd Jan 2020
HRH Vikings 2019
festival details
last updated: Mon 11th Nov 2019
HRH Vikings 2019
line-ups & rumours
last updated: Mon 11th Nov 2019