Download Festival are calling a fan vote to name their legendary Second Stage. Fans can vote via this form, and the results will be announced on the very fitting Friday the 13th of May.

This year the iconic Second Stage will be playing host to the likes of Frank Carter & The Rattlesnakes, Megadeth, Steel Panther, The Darkness and many more.

Please see press below for more information!
DOWNLOAD FESTIVAL FANS
TO NAME THE LEGENDARY SECOND STAGE FOR 2022

Download 2022 are calling a fan vote to name the festival's iconic Second Stage, as the rock community prepares for its big reunion at the first full-scale Download in three years
The Download community are able to submit their name suggestions via this form
The shortlist will be announced on Monday 9 May with fans able to vote for their favourite name via Download's socials
The winning name to be revealed on Friday 13 May
Tickets for Download 2022 are available here
Download Festival announces that they will be naming the legendary Second Stage for 2022, which will see the likes of Frank Carter & The Rattlesnakes, Megadeth, Steel Panther, The Darkness and many more play this year. Download prides itself on listening to its loyal fanbase, so they will be asking the community to vote to name the second stage.

Fans are able to submit their name suggestions via this form. Download Festival will then announce the shortlist on Monday 9th May with fans able to vote for their favourites via Download's socials, before the winning stage name is announced on the very fitting Friday the 13th of May.

Making its highly anticipated return with its first full-capacity festival in three years, Download Festival 2022 is the big reunion of the UK rock community and will take place on 10 – 12 June 2022 at the spiritual home of rock in Donington Park, Leicestershire. Only one month to go! Tickets are on sale now at downloadfestival.co.uk/tickets.

The line up consists of the monumental KISS, Iron Maiden and Biffy Clyro, alongside Skindred, YONAKA, Will Haven, Kid Brunswick, Bimini, Wargasm, Dana Dentata, A Day To Remember, KORN, Funeral For A Friend and many more.



ENDS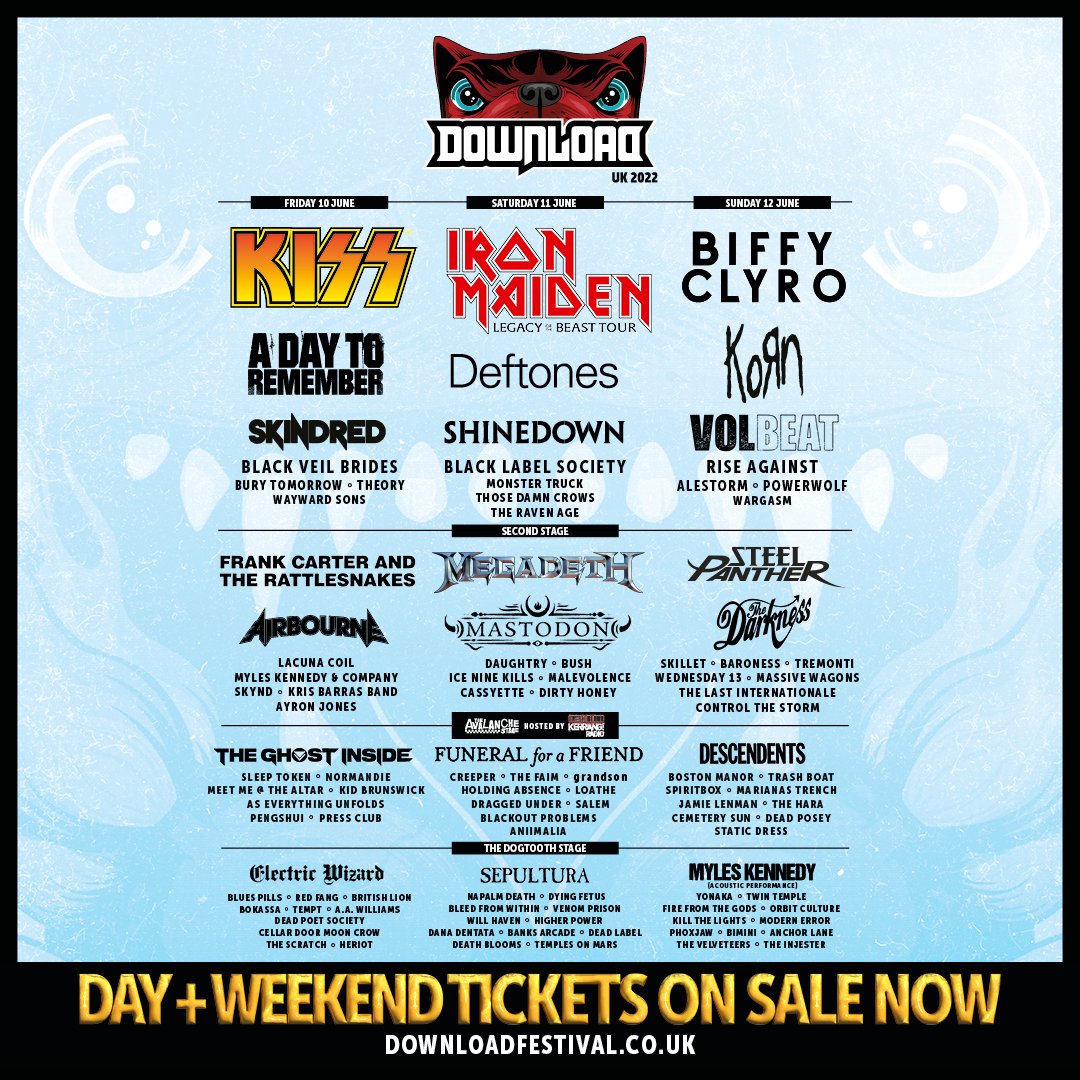 latest on this festival
Download Festival 2022
festival details
last updated: Mon 9th May 2022
Download Festival 2022
line-ups & rumours
last updated: Mon 9th May 2022
Download Festival Fans To Name Second Stage For 2022
last updated: Mon 9th May 2022
Download Festival announce major site improvements
including improved accessibility and environmental imp
last updated: Wed 13th Apr 2022
Download
festival home page
last updated: Fri 1st Apr 2022