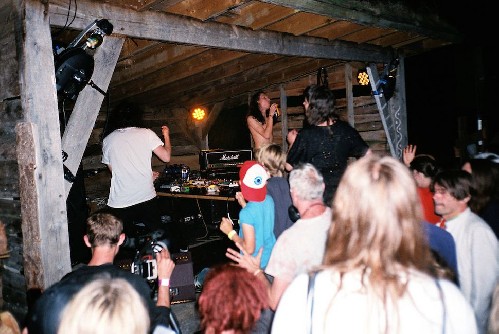 Supernormal Festival

2016
Friday 5th to Sunday 7th August 2016
Braziers Park School of Integrative Social Research, Ipsden,

Wallingford

,

Oxfordshire

,

OX10 6AN

,

England
MAP
£85 for a weekend ticket
daily capacity: 1000
last updated: Fri 8th Jul 2016
To say that Supernormal is all about experimental arts and music doesn't quite capture what is ever so special about this beauty of a festival. For me, the good feelings started as soon as I got on the bus at Reading. The driver gave me a knowing smile when I asked him to drop me off at Braziers Park, and a minute later I met my first Supernormal pal, another first-timer down from Glasgow who had come to see his friend's band play. We chatted on the bus and on the walk through the field leading up to the gates before parting ways, but this was just the beginning – we ran into one another lots over the next three days. Supernormal is a relatively tiny event, topping out at 1500 tickets, which means you can feel free wander at your will, float between stages, pop into a workshop or karaoke, snooze on the grass, or whatever floats your boat at any particular moment, and sooner rather than later you'll be sure to run in to old friends or meet new ones.

Supernormal happens at Braziers Park in Oxfordshire. The setting matters. Braziers, an estate centered on a 1799 Gothic revival country house that looks something like fairy tale castle, has been run for the last half century as an educational trust and residential commune. The School for Integrative Social Research set up by social visionaries Wilfred Trotter and Norman Glaister when Glaister took over the land in 1950 seeks, as the the pamphlet puts it, to "study social change with ourselves as the experiment". Throughout the year, you can take weekend classes there in everything from permaculture and herbal tonic-making to fantasy role play and "wide games" (not sure what those are, but I'm intrigued). Even though Supernormal is independently organised and Braziers is for the most part just a backdrop with the full-time residents staying hidden out of sight, the spirit of the place is a presence that fits just right with the festival's participatory ethos and distinctive programming. Walking around you have the impression that almost everyone is directly involved in some way, either performing or volunteering, and in fact anyone else who want to make noise or make art over the weekend can easily jump in on workshops and activities designed for this purpose, or else just go wild in their own time. This year Braziers was also the perfect haven for a musical line-up that, to me, felt like strong medicine against all the terrible crap going in the world right now and that goes on always.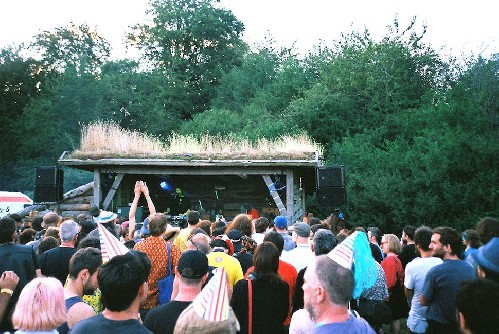 Braziers House itself was a part of the festivities with the mansion's sunny drawing rooms hosting music on the folk/acoustic end of the Supernormal spectrum every afternoon. Personally, I ended up gravitating towards these intimate performances during the day. Serena Korda's Jug Choir: Ectoplasmic Variations was a stand out: picture an ensemble of voices and other vibrations resonating through mic'd up, round-bellied, anthropomorphic clay pots. The fact that festival-goers were able to take a jug choir workshop and participate in a second performance the next day says everything about Supernormal's characteristic vibe. Cath and Phil Tyler performing folk ballads and a cappella tunes in the Sacred Harp tradition were also great. Between sets, the house piano was free to play and with so many talented people floating around I heard some incredible impromptu tinkling.

In the Barn, a nearby outbuilding, I joined in life drawing sessions in the mornings while in the evenings, harder-edged acts like Charles Hayward (here on solo drums with bracing lyrics) and The Rebel (dark masculinity laid bare) shook the wooden floors with the crowd loving them.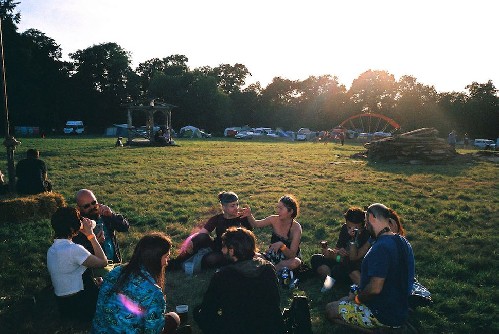 The main festival grounds were setup a short distance away in a sunny field, separated from the house and barn by a small wooded area. Here two stages (one outdoor, one tented) and a church-like temporary structure called the Vortex rounded out the main venues. A few select food and drink trucks kept everyone nourished and rosy. Tibetan curry, blue-green juice, cherry cider, and espresso martinis from the Bare Plume bar were my favourites, but standard beer, chips and burgers were also on offer. Queues were never really a problem. An added bonus of being a small festival perched within an existing community is that the grounds were lovely and well-kept. The camping area was packed but clean and surrounded by decent wooden loos, water spouts for drinking, and an outdoor shower. Volunteers kept things running smoothly and seemed to be having a good time like everyone else between gigs, which is saying something – at some level, every event can probably be judged by the happiness-level of its volunteers. I spent most of my drifting between the two stages and lying on blissed out the grass but was lucky enough to catch the tale end of Medea, a soap-opera musical performance by experimentalists Serafina Street and Natalie Sharp. Moonseer, an arty performance in the blacked-out Vortex felt like an occult, post-apocalyptic orgy involving masks, breasts, laptops, distortion, and incantation. Both were cathartic.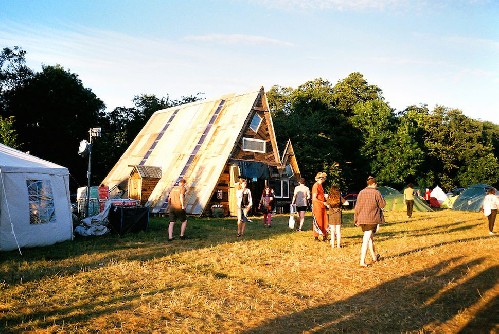 For all its alternativeness, Supernormal is definitely all-ages friendly – in addition to kids running around wearing costumes, banging on home-made instruments and jumping off haybales, there were some older folks and plenty of us in the middle. Music winds down on the early side because of a noise curfew in respect of the residents and neighbours, so after hours, two massive fire pits serve as the main gathering places. The fire keeps the energy going till all hours but at a pretty low-key level, so if you're a werewolf like me and have an insatiable urge to dance at night, you do well to go crazy between midnight and 2:00am.

Art is best when it brings good people together under magical conditions and this is Supernormal to a tee. Bring good vibes and you'll get them back in spades. Thanks to the organisers and best of luck for next year!
review by: Kathryn Siegel
photos by: Mike Barrett
Latest On This Festival
Supernormal Festival
festival home page
last updated: Thu 1st Aug 2019
Supernormal Festival 2019
festival details
last updated: Mon 15th Jul 2019
Supernormal Festival 2019
line-ups & rumours
last updated: Thu 20th Jun 2019
Supernormal Festival 2017
festival details
last updated: Thu 3rd Aug 2017
Supernormal magic
Supernormal 2016 review
last updated: Mon 22nd Aug 2016