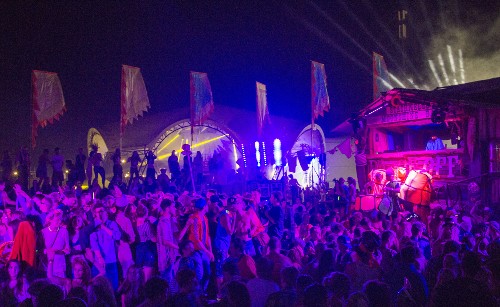 The Secret Garden Party

2014
Thursday 24th to Sunday 27th July 2014
Mill Hill Field, Abbots Ripton,

Huntingdon

,

Cambridgeshire

,

PE28 2PH

,

England
MAP
£175 adult weekend (+booking fee) - SOLD OUT
daily capacity: 32000
last updated: Mon 23rd Jun 2014
Why have I never done this festival before?! With all my friends raving about this festival we embarked on the weekend with particularly high expectations, which were in no way disappointed.
In it's 11th year with a 30,000-crowd capacity the festival was the perfect size. Big enough to draw in a colourful eclectic gathering full of vibrant souls but small enough to make things logistically very easy, the site layout was a piece of cake to navigate. We had amazing weather the entire weekend which is always conducive to maximizing enjoyment, making simple things like sitting on the grass or rolling around on hay bales possible (and sometimes mandatory).
I always remember looking at previous years line ups and never being particularly grabbed, but this year I'd heard a few people saying they thought 2014 was the strongest line up yet. Granted there were still many acts unknown to me but headiners such as the Dub Pistols, The Correspondents, Mo and Fat Freddy's Drop packed a pretty good punch.
Thinking about musical highlights, we stumbled across some lesser known gems such as Bat and Ball who played at Where The Wild Things Are, a magical stage entwined with twisted branches and giant dragonflies which set the perfect scene for this band. The brother-sister duo from Devon delivered a beautiful set of catchy melody after melody, Abi's vocal's were pure and effortless and they performed with confidence and a great stage presence. If you like your electronic indie kooky and slightly on the curious side, reminiscent of the likes of the XX or Wolf Alice then I highly recommend this extremely talented pairing. It was love at first sight for us and I already can't wait to see them again.
Big Deal are a firm favourite of mine, we caught them on Friday strumming away in the heat of the day to a small gathering at the main stage. Alice Costelloe and Kacey Underwood did a blissful job, leaving harmonising melodies lingering with us after each song; perfectly suited to a balmy summers afternoon. Singing of joy and love and heartbreak in equal measures, the duo performed a more June Gloom-heavy set with a few tracks from debut album Lights Out. We were treated to a moorish blend of dream pop-indie with the likes of 'In Your Car', 'Talk', Catch Up' and 'Swapping Salt', and I walked away feeling like I'd just watched an entire season of Vampire Diaries.
One of the best things about the line-up at SGP is the fact that not only is it still relatively underground, it's extremely well selected and nicely varied. Plus with the site size being small and manageable, it meant you could squeeze in as much or as little as you want without having to worry too much about clashes or missing people.
De Fuego are just something else. Totally humble and unassuming as individuals, but don't let this deceive you! From the second the first pluck hits the airwaves you're swept away with their passion, Edina Balczois noticeably more animated than Freddy Morgan, big grins intersperse her intense performance and what she accomplishes with her guitar is nothing I've ever experienced before. Between them they are completely magical and stir up emotions from the heart with beautiful tracks from their album Bluebird, combined with covers including the infamous and infectious "Miserlou" (Pulp Fiction). If you like your strings rhythmic, exciting, and percussive, go see this duo, you won't be disappointed!
Other highlights included MØ who exploded onto the main stage in a fury of incredible talent. Every time I've seen her live I'm astounded by her stage presence, she's one of the most natural-born and interactive modern day performers I've seen. I'm always surprised at how fierce she comes across compared to how she sounds vocally on her tracks, as a live performer she gives everything and then some. Belting out hits like "Don't Wanna Dance" and "Walk This Way" she allows the music to own her and is as expressive in her dance as she is in her song, often moving front stage to sing into the crowd; a great opportunity to see the fire in her eyes.
Where The Wild Things Are also played host to new kids on the block The Mispers, a young band I'd not heard of but stumbled upon by good chance. Their energy was as infectious as their sound, a genre-hopping blend of pop, folk and indie. The five-piece looked like they were enjoying their set and playing with each other as much as their audience did, and songs were so catchy they sounded strangely familiar. They were an instant hit with us as we found ourselves dancing away to tight vocal harmonies and pacey drums, accompanied by the soft strings from classically trained violinist Hannah Van Den Brul. Tracks like "Trading Cars" and "Coasts", headed up by some very strong lead vocals courtesy of Jack Balfour, saw the crowd constantly on the move. Drawing big love and appreciation at the end of the set, this band are fresh and hugely exciting and I'm pretty sure, destined for great things.
Wolf Alice played a captivating set also at Where The Wild Things are, front-girl Ellie Roswell looked like a super hero side-kick dressed in black with a glitter stripe masking her eyes, hair in bunches as she sung sweet melodies to twinkling guitars and rolling percussion. I have a huge soft spot for these guys, their EPs form part of my daily soundtrack so hearing them sound even better live totally made my festival. Tracks like "Blush" and "Bros" appeal to your softer side whereas raw and heavy rifts from the likes of "Fluffy" satisfy the rock thirst. You get the best of both worlds from this band and I can't wait to catch them at Reading.
Music-aside Secret Garden Party for me had everything you could wish for in a festival. People go all-out every day with costumes. Visually the festival puts a lot of time and care into ensuring the site feels like a magical fantasy playground for adults, pickled with art installations and surprises around every corner. There is so much going on in the day too, from craft workshops to educational talks as well as the music. Small independent traders striving to make great waves gather to provide a decent variety of delicious street food. We met Eduardo, founder of the Columbian Coffee Company, whose slogan was "Beyond Ethical Trading" and by the time he'd taken to tell his story we understood it was exactly that. Made even better by the fact that the coffee tasted out of this world and was a hit even with friends who don't like coffee.
The site is also awash with myriad of vintage clothing and jewelry stalls, you could easily turn up empty handed and grab everything (plus your Christmas shopping) there. There was even a glitter shower, just in case you needed to feel that little bit more fabulous.
Nighttime totally transformed the festival into a visual barrage of fairy lights and pyrotechnic spectacles. I'd heard people rave about the fireworks and I found out why, it really was one of the pinnacles of the weekend. From the floating Emerald City to the mad craziness of the Dance Off stage, driving techno at The Drop to the powder paint explosion at the main stage, Secret Garden Party had hit every nail in the head when it came to fulfilling creative and hedonistic desires.
One lasting memory will be from when the Correspondents played to a packed out arena on the main stage on Sunday. As the crowd eased into full electro-swing, amassing energy despite this being the last day of an incredible weekend in the sweltering heat of the Sunday afternoon, two Spitfire bombers appeared out of nowhere and proceeded to circle overhead. It really couldn't have been a more perfect day. To sum up, in the words of Mr Bruce as he played out the last ten minutes of his set with some hardcore jungle, Secret Garden Party was nothing short of "overwhelmingly f*cking good".
review by: Carrie Tang
photos by: Carrie Tang
Latest On This Festival
The Secret Garden Party 2024
festival details
last updated: Thu 24th Aug 2023
The Secret Garden Party 2023
festival details
last updated: Sat 10th Jun 2023
Secret garden party becomes biggest music festival to embrace social enterprise model
last updated: Thu 13th Apr 2023
Secret Garden Party 2023 Line-up Announcement
last updated: Thu 9th Mar 2023
The Secret Garden Party 2023
line-ups & rumours
last updated: Mon 6th Mar 2023