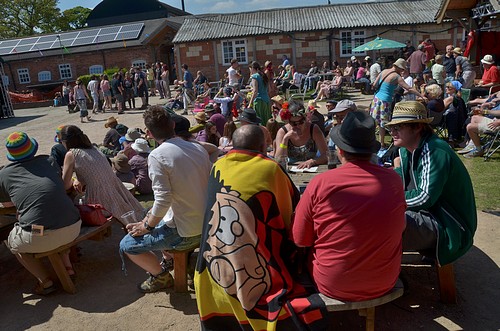 Off The Tracks Spring Festival

2013
Friday 24th to Sunday 26th May 2013
Donington Park Farmhouse Hotel, Isley Walton, Donington, Derbyshire,

DE74 2RN

,

England
MAP
£75 for w/e inc camping, youth (12-16) £40
daily capacity: 2000
last updated: Wed 1st May 2013
If you've never been to Off the Tracks before, there's a couple of things you need to know. The first is that it's a fantastic, friendly little festival that over the last 25 years has earned itself a reputation for being one of the very best in the country. Another is that once you've been, you'll likely want to go again. I attended for the first time last year, had a ball and resolved to return as soon as I could.
Heading up the M1 towards Castle Donington on Friday afternoon though, my excitement was tempered somewhat by the torrential rain and the golf ball sized hailstones bouncing off my car windscreen. Someone up there must like Off the Tracks though, because as soon as I arrived on site the downpour stopped and was replaced by glorious sunshine which would remain for the rest of the festival.
Heading down to the courtyard to sample some music, the first band I see are UK Ska legends
The Selecter
who have the place jumping with a mixture of their classic 2-Tone era hits, some newer material and a few well-chosen cover versions including an unlikely but inspired take on the old Doris Day chestnut "Secret love". It seems that Pauline Black hasn't aged a day since 1980, and the band play with an energy that would put many a younger outfit to shame.
After a quick trip to the bar to sample one of the many different ales on offer its back to the courtyard to check out headliners
Salsa Celtica
, An 11 piece band from Edinburgh who combine the steamy rhythms of Cuban music with the folk traditions of Scotland and Ireland. An unlikely combination maybe but one that works a treat and gets the whole place dancing.
There's more dancing to be had at the late night session in the Threshing Barn where Dub Pistols' frontman
Barry Ashworth
is holding court behind the turntables and rocking the house with a mammoth DJ set which takes in Hip hop, Ska, Jungle, Dub and Punk. All the mixing is live and Barry's evident love for the music he's playing is infectious. A big joyful end to a cracking first night of the festival.
Saturday morning comes, and the campsite is bathed in glorious sunshine. I head down to the courtyard for a reasonably priced breakfast followed by a trip to the shower blocks, where a £1 token will buy you 5 minutes of lovely hot water, a far cry from the lukewarm dribbles often seen at festivals. One of Off The tracks big plus points is that the site is purpose built for camping, with proper toilets and showers, and this also means that if the weather turns nasty, there's far less potential for the ground turning into a treacherous bog.
Suitably revived I take a stroll round the festival grounds. Once again The Energy Orchard is here, a quiet area set aside for meditation and healing. It's well worth a visit as there's lots of knowledgeable folk there who are always keen to share their skills. The children's area is in full swing too with lots of little ones hula hooping and getting ready for Sunday's dragon procession.
Hillbilly cats
Rattleshack
kick off the main stage music line-up at lunchtime, playing a footstomping set of songs about love, murder and drinking. They draw a decent crowd too, many of whom can relate only too well to songs about whiskey and hangovers this morning.
Mas Y Mas
follow them and manage to get the crowd dancing with a cracking set drawing on Latin and Afro-Cuban influences, Perfect music for a sunny day.
Canada's
The Paperboys
are up next with a set that seems to take in everything From Mexican music to Van Morrison style Caledonian Soul. Great songs wonderfully played by musicians with a sense of adventure, they're unpredictable and brilliant and get a deservedly warm response from the crowd.
Needing a break from the scorching afternoon sun I head to the Threshing Barn where
Nordic Giants
are playing a live soundtrack to a few short films, the two musicians make a mighty sound that will surely appeal to fans of Sigur Ros or Godspeed You Black Emperor, and the cool and darkness of the barn is the perfect setting for their powerful music. Back on the main stage
The Lagan
are playing an energetic but predictable set of folk punk stompers, Getting a great response from the crowd but coming over as a bit one dimensional compared to the rest of today's delights.
White Bone Rattle
are up next with their Primal Scream meet The Stooges Rock'n'Roll and they pull the biggest crowd of the day so far, setting the scene nicely for headliners
Alabama 3
.
Larry Love and company have pretty much created their own genre and a decade or so of preaching the gospel of Country Acid House Music has made them one of the most formidable live acts in the country. Resplendent in red cowboy suit and stetson, Love is the consummate frontman leading the faithful through 90 minutes of sin and redemption. They finish with a great version of the John Prine classic "Speed Of The Sound Of Loneliness" before heading off into the night.
As ever at OTT, Sunday seems to have come around far too fast, But the sun is once again shining bright and there's lots I'm looking forward to seeing. Zimbabwean Mbira player
Linos Wengara Magaya
and his band kick things off and for the next 45 minutes or so the courtyard reverberates to the sound of African music with Linos's sweet vocals and the beautiful sound of the Mbira.
Maia
are next up, An acoustic collective from Huddersfield whose gentle indie is augmented by some lovely Ennio Morricone style trumpet to great effect.
I was a big fan of
Neverland
back in the 90's so was really pleased to see that they had reformed and would be playing OTT. It's a triumphant set to a hometown crowd, and tunes like "Roses", "Buy a Car" and "The Talking Tree" have lost none of their power. Adrian Dent's bluesy growl has matured like a good wine and backed by Mick Doyle's mandolin and a crack rhythm section featuring none other than OTT organisers Andy and Boz they prove that they still have the old magic and some great new material.
Merry Hell
are the last band of the festival for me and I immediately fall head over heels in love with their beautifully crafted, big hearted songs. Kicking off with "Drunken Serenade", they roar through a set of songs that easily equal the finest moments of the likes of Bruce Springsteen and Paul Heaton. High praise indeed and well deserved. I haven't heard any of these songs before but by the time the second chorus comes around I'm singing along at the top of my voice with the rest of the crowd. By the time they play the ridiculously good "Lean On Me Love" It's no exaggeration to say that I've discovered my new favourite band. One trip to the merchandise stand later and I'm the proud owner of two albums that I'm sure in years to come will be regarded as classics. A wonderful end to an absolute cracker of a festival...
Here's to the next 25 years!
review by: Rob Matheson
photos by: Phil Bull
Latest On This Festival
Off The Tracks Summer Festival 2024
festival details
last updated: Tue 17th Oct 2023
Off The Tracks Festival 2023 - The Review
Late-summer sunshine brightens this lovely end-of-season festival
last updated: Sun 15th Oct 2023
Off The Tracks Summer Festival 2023
photo galleries
last updated: Sun 15th Oct 2023
Off The Tracks Summer Festival 2023
festival details
last updated: Tue 25th Apr 2023
Off the Tracks Festival
festival home page
last updated: Mon 23rd Jan 2023